Open XDR is a type of extended detection and response (XDR) security solution or platform that supports third-party integrations to collect specific forms of telemetry to enable threat detection, hunting and investigation across different data sources and execute response actions.
Sometimes referred to as Hybrid XDR, Open XDR integrates disparate tools within the security stack, such as endpoint detection and response (EDR), next-generation firewall (NGFW), identity and access management (IAM), cloud workload protection (CWP), cloud access security broker (CASB) and others. By eliminating the silos between these tools, the organization can produce more accurate alerts, generate faster responses, enhance threat hunting capabilities and streamline investigations.
What is XDR?
XDR is considered the next evolution of EDR. It is a security solution that draws security telemetry from multiple sources, including endpoints, cloud workloads, and network email. This enriched threat data is then filtered and condensed into a single console via the XDR platform, enabling security teams to quickly and efficiently identify and remediate security threats across multiple domains from one unified solution.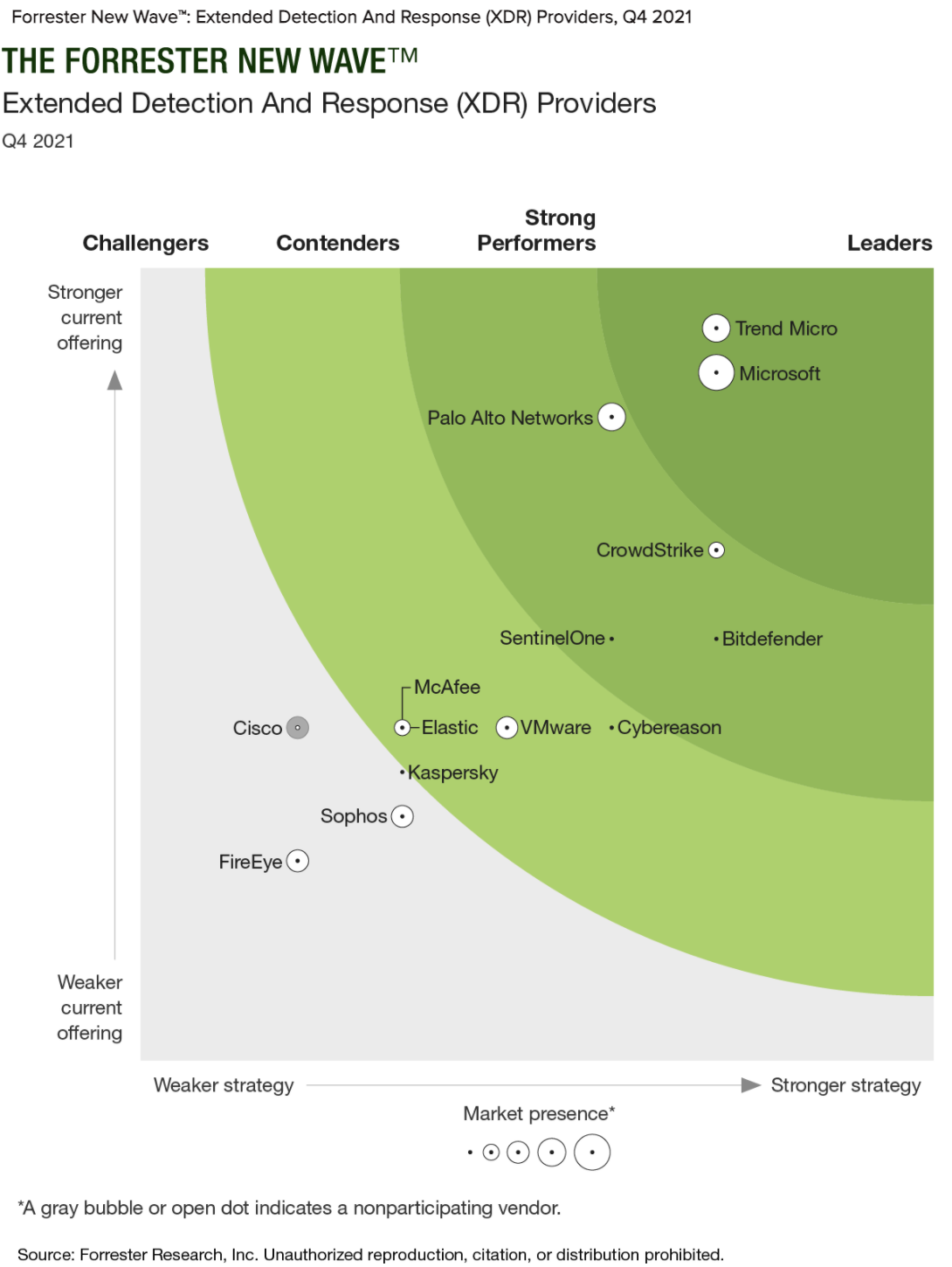 New Forrester XDR Report
Download the full report to learn what matters when it comes to XDR product capabilities and future strategy.
Download Now
Types of XDR
XDR solutions fall into two broad categories:
Open or Hybrid XDR
Native or Closed XDR
These two categories differ primarily in the types of tools and solutions supported by the XDR platform. An Open XDR solution is vendor agnostic and can integrate data from disparate sources and solution providers. A Native XDR solution , on the other hand, integrates tools from a single security vendor.
To learn more about the differences between Open XDR and Native XDR, please read our companion post, Open XDR vs Native XDR.
Why is Open XDR important?
In an increasingly complex threat landscape, most organizations rely on different tools and vendors to provide comprehensive protection. While each of these tools plays a distinct role in strengthening the organization's security posture, managing and operating each individually is both inefficient and ineffective. Security analysts are often forced to manually sift through and
piece together volumes of diverse alert and event data generated by different systems, losing valuable time in the event of an attack and increasing the likelihood that an adversary can slip by undetected.
At the same time, many of these security solutions are best-of-breed tools, specifically chosen by the organization based on their unique needs. Replacing these tools can be costly — not to mention that the substitute solution may not offer the same level of protection.
This is where XDR comes in. In an Open XDR model, the organization can unite key telemetry from its various security tools from different vendors into a single view, giving security analysts access to rich and robust data from across the security stack. By connecting the dots among previously siloed security solutions, the organization is able to extend visibility and improve detection, ultimately accelerating response times and strengthening the security posture without adding complexity to the security stack.
Why Choose Open XDR: 5 Benefits
Open XDR is an ideal choice for organizations that have taken a best-of-breed approach to cybersecurity and have solutions from various providers within their security stack. In this case, the Open XDR model provides several important benefits, as compared to a Native XDR solution:
1. Vendor agnostic: Open XDR allows organizations to unite disparate telemetry from multiple security partners into a single view so companies can make the most of their existing assets and continue to invest in the tools and solutions that best meet their needs.
2. Flexible and scalable: With an Open XDR model, there is no vendor lock-in. This is a critical feature since the cybersecurity vendor landscape is constantly evolving. Adopting an Open XDR approach ensures that the organization can implement cutting-edge solutions from different  providers at any time.
3. Enhanced protection: With an Open XDR solution, organizations can address gaps within the security architecture using a variety of tools or solutions from a variety of vendors. By contrast, with a Native XDR approach, organizations are limited to the toolset offered by their designated vendor.
4. Optimized value: In an Open XDR model, there is no need to "rip and replace" existing solutions to force fit into the XDR platform. Rather, the organization can take steps to configure and integrate different security tools within this master view.
5. Enhanced performance: By providing a single view across the company's security telemetry, organizations not only unlock new efficiencies within the workforce, but can also improve performance.
Benefits of XDR
As a reminder, organizations will also unlock important benefits when implementing an XDR solution, be it native or open. These benefits include:
Consolidated threat visibility: XDR delivers granular visibility by working across multiple layers, collecting and correlating data from email, endpoints, servers, cloud workloads and networks.
Hassle-free detections and investigation: Analysts and threat hunters can focus on high-priority threats because XDR weeds out anomalies determined to be insignificant from the alert stream. And with advanced analytics and correlation content prebuilt in the tool, XDR automatically detects stealthy threats — all but eliminating the need for security teams to spend time constantly writing, tuning, and managing detection rules.
End-to-end orchestration and response: Detailed, cross-domain threat context and telemetry — from impacted hosts and root cause to indicators and timelines — guides the entire investigation and remediation process. Automated alerts and powerful response actions can trigger complex, multi-tool workflows for dramatic security operations center (SOC) efficiency gains and surgical threat neutralization.
Key Features to look for in an XDR Platform
At its core, an XDR solution delivered from a cloud-native platform will dramatically improve threat visibility and reduce the length of time required to identify and respond to an attack. However, not all solutions are created equal.
Security teams should carefully consider which platform will serve as the foundation of their XDR functionality so that they can ensure comprehensive coverage, flexibility for the future and optimization of resources. Here we review some key questions organizations can ask when evaluating XDR vendors and their offerings.
Data
Does the solution ingest and centralize data from endpoints and security solutions across the enterprise?
Does the solution leverage advanced automation and technologies such as artificial intelligence (AI) and machine learning (ML) to parse data, correlate it to the attack surface that was penetrated, and perform analysis and prioritization?
Does the solution normalize the data, reorganizing it so that users can properly utilize it for further queries and analysis in threat hunting and investigation?
Does the solution present security teams with this data in a single console that not only allows users to access cross-domain information for hunting and investigation but also to direct and orchestrate response?
Platform
Is the solution vendor agnostic? Can it support integration with different tools, from different vendors?
Are there any platform limitations that could impact the organization's ability to integrate solutions in the future?
Does the platform support advanced configurations and customization – including custom detections – based on the unique needs of each customer?
Does the platform leverage open, well-defined schemas for data exchanges with additional IT security systems to ensure effective communication between security tools?
Is the platform recognized by relevant analysts or industry groups as a leader in the area of XDR?
User experience
Does the solution provide an intuitive and engaging user experience?
What resources does the organization offer to help onboard new team members and ensure adoption and proper use?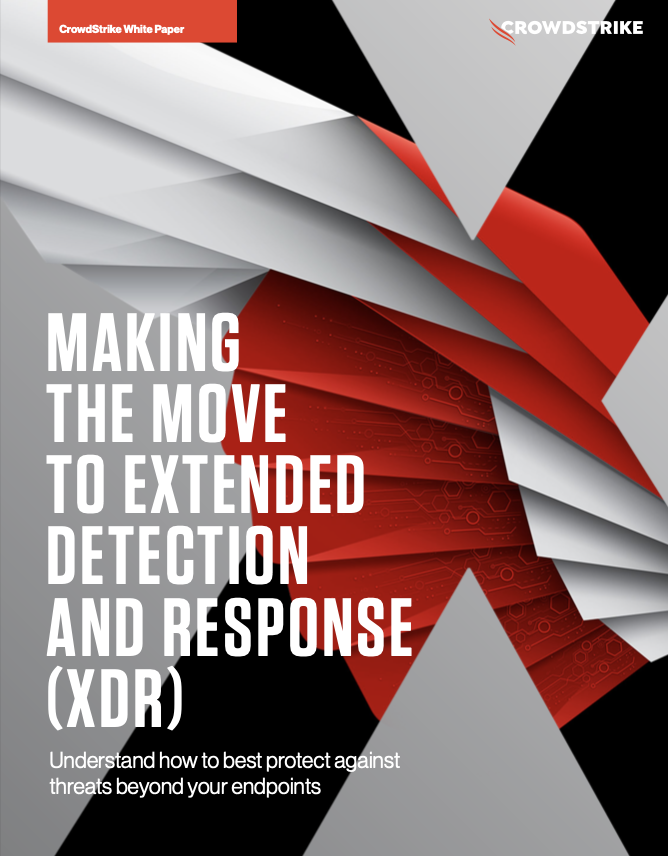 How to Make the Move to XDR
Download this white paper to learn what you should look for when moving to an XDR solution to maximize its capabilities and benefits.
Download Now
CrowdXDR Alliance: CrowdStrike's Approach to Open XDR
To leverage the benefits of Open XDR, CrowdStrike founded the CrowdXDR Alliance – a revolutionary coalition of organizations striving to enable unified, threat-centric detection and response across an organization's security and technology ecosystem. The alliance includes industry-leading security and IT solutions such as Google Cloud, Proofpoint, Zscaler and CloudFlare.
Specifically, the CrowdXDR Alliance offers:
A unified XDR approach with shared ontology, common query language and purpose-built workflow automations
Unmatched visibility with a broad range of first- and third-party sources across multiple technologies and domains
The flexibility and power to have XDR your way, allowing you choose the scope of XDR for your organization, the domains it covers and the tools you integrate