In previous posts in this series, we introduced basic and advanced concepts related to Linux logging. Then, in Part Three, we focused on best practices when dealing with Linux logging. One of the best practices we touched upon is a centralized logging solution. A centralized log management system helps us to overcome the difficulty of processing and analyzing logs from a complex, distributed system of dozens (or even hundreds) of Linux hosts.
In this post, we'll look at how to use Falcon LogScale Collector on our Linux systems in order to ship system logs to CrowdStrike Falcon LogScale. With a simple and unified logging layer, we can make queries across logs from multiple Linux hosts, handle multiple log formats and more.
Set up the Collector for Linux
To begin, download and install Falcon LogScale Collector on your Linux hosts. The collector relies on ingest tokens — unique strings used for authentication — to send logs to the correct repositories. Generating an ingest token for your Falcon LogScale repository is straightforward.
Falcon LogScale Collector is configured through a YAML file and additional environment variables. Below is an example of a minimal configuration file that collects Linux kernel logs and sends them to Falcon LogScale.
dataDirectory: data
sources:
  kernal_logs:
    type: file
    include: /var/log/kern.log
    sink: my_humio_instance

sinks:
  my_humio_instance:
    type: humio
    token: <ingest-token>
    url: https://cloud.community.humio.com
In the above example, you would make sure to replace <ingest-token> with the ingest token generated for your repository. Also, the url you should use depends on your type of Falcon LogScale account. Reference the endpoints documentation to determine what you should use for url.
For more detailed information, check out how to configure Falcon LogScale Collector.
Processing
Logs sent to Falcon LogScale need to be processed before storing them. Parsers can process structured data (such as JSON) or unstructured data (such as application stdout). Falcon LogScale has several built-in parsers available, or you can even create your own parser.
Indexing
Although most centralized solutions rely on indexing as an effective solution to maintain data and make querying efficient, Falcon LogScale offers an innovative solution and provides an index-free platform. Despite being index-free, Falcon LogScale demonstrates its ability to scale immensely while maintaining blazing-fast query speeds.
Querying
With your Linux logs available at a central location, you're ready to dive into the data and make queries. Perform a query by searching the raw logs or selecting data from specific fields. For example, the following query gives the top three common HTTP methods with the exception of PATCH) with a status equal to or greater than 400:
status >=400
| method != PATCH
| top(method, limit=3)
For more details, read about how to build queries in the official documentation, which also provides information on query best practices and example queries.
Based on query results in Falcon LogScale, you can build dashboards composed of widgets.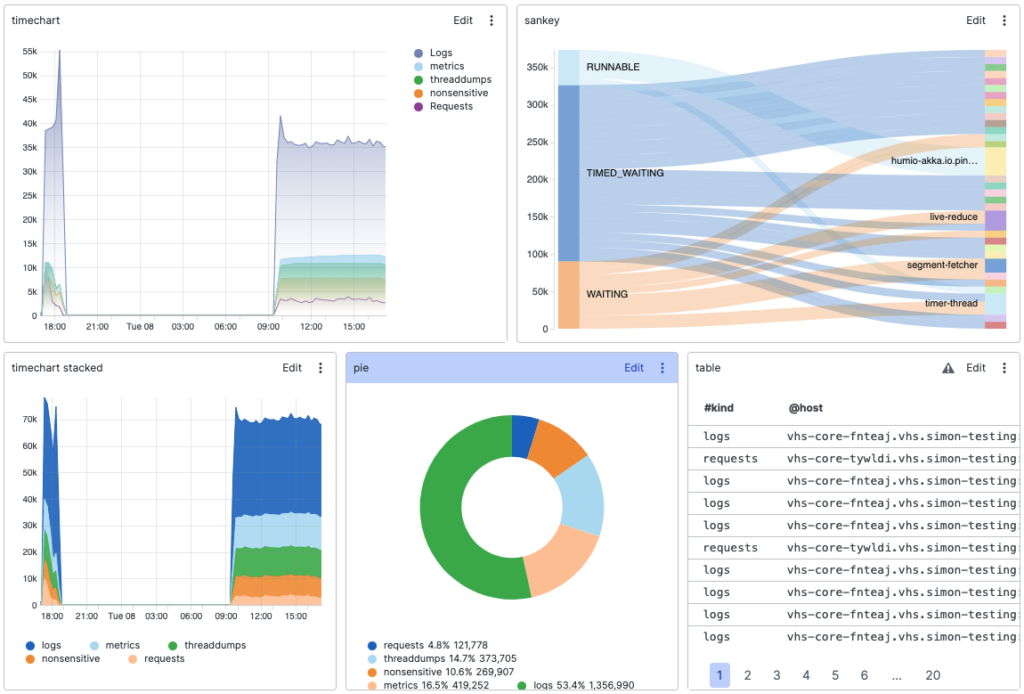 You can also configure each dashboard with several widgets, including raw or filtered data, which can be used to drill down to more specific data. For more details, read about how to create and maintain dashboards.
Conclusion
There are many benefits to building a centralized logging solution, such as streamlined log management and security analysis. Centralized logging helps developers build a unified logging layer that collects and sends Linux logs to a single place for processing, indexing, querying and visualization.
We demonstrated how to use Falcon LogScale Collector for collecting and shipping your Linux logs to Falcon LogScale. Building a unified logging layer from scratch can be a big undertaking. Falcon LogScale Collector and Falcon LogScale greatly simplify this process, allowing you to focus on delivering business value to your customers.
When you're ready to consolidate all of your Linux logs to a single, centralized platform, sign up for a free, 30-day trial of CrowdStrike Falcon LogScale.