8 Things Your Next SIEM Must Do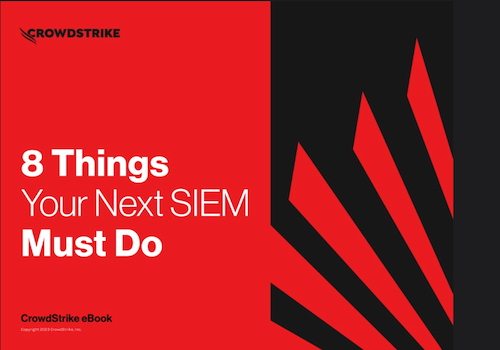 Key capabilities for optimal threat hunting and incident response
Many traditional SIEM and logging tools, originally architected over a decade ago, can't handle today's performance back when the term was first coined by Gartner analysts in 2005.
With log data expanding faster than IT budgets, it's critical for SecOps teams to find a solution that can keep up with the speed, scale and efficiencies needed to support their growing data volumes.
Modern log management can deliver high performance and sub-second latency at low cost.
Get this eBook to learn:
The pitfalls and blind spots legacy SIEMs introduce
How evolving security requirements have upended the SIEM market
Eight must-have capabilities to look for when evaluating your next SIEM
Discover More at our

Resource Center
For technical information on installation, policy configuration and more, please visit the CrowdStrike Tech Center.
Visit the Tech Center