At RSA, SC Magazine Names CrowdStrike Falcon® Intelligence Best Threat Intelligence Technology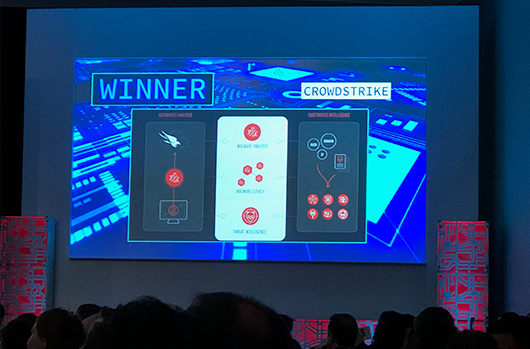 CrowdStrike's incredible success at this year's RSA event included winning the SC Magazine 2019 Trust Award for Best Threat Intelligence Technology for CROWDSTRIKE FALCON® INTELLIGENCE™, our automated threat intelligence solution and part of the comprehensive CrowdStrike® CrowdStrike Falcon® platform. This award was presented at a dinner hosted by SC Magazine on Tuesday, March 5, during RSA.
In giving our CrowdStrike Falcon® Intelligence technology this recognition, SC Magazine cited a January 2018 Gartner Magic Quadrant report that predicted by 2021, endpoint protection platforms "will provide automated, orchestrated incident investigation and breach response." We believe CrowdStrike Falcon® Intelligence fulfills this prediction by being the first platform to seamlessly integrate threat intelligence with endpoint protection — automating incident investigations and accelerating organizations' abilities to respond to a breach.
Actionable Intelligence That Speeds Response
CrowdStrike Falcon® Intelligence automatically investigates all incidents in a customer's environment – analyzing threats in minutes rather than hours, while the global CrowdStrike Intelligence team of elite threat analysts and security researchers provides contextual information on the specific adversaries targeting your organization. This combination of technology and seasoned threat expertise provides actionable intelligence that enables security teams to not only respond faster and with more precision — it makes predictive security a reality.
SOC Team Functionality — Regardless of Resources
This award also recognized how CrowdStrike Falcon® Intelligence supports security operations center (SOC) teams and offers an extension of SOC team capabilities to any size organization, regardless of the level of IT and security resources available to that organization.
SC Magazine writes that CrowdStrike Falcon® Intelligence "elevates the capabilities of all security analysts and unlocks critical security functionalities for those organizations lacking a SOC operation. Benefits include more efficient incident response, improved attack prevention, increased productivity, reduced capital outlays and operating expenses, regulatory compliance, and an almost immediate time-to-value due to minimal maintenance through CrowdStrike's single-agent approach." Learn more about CrowdStrike Falcon® Intelligence by reading our white paper.
CEO George Kurtz Honored as Executive Leader
Also at RSA, SC Magazine celebrated its 30-year anniversary by honoring several industry leaders, including CrowdStrike Co-Founder and CEO George Kurtz, who was named one of the  "Executive Leaders of the Last 30 Years" in the vendor category.
In recognizing Kurtz, SC Magazine's Online Editor Doug Olenick, writes, "Whether it is founding one of the world's major cybersecurity firms or creating a foundation to encourage young people to enter the profession, George Kurtz left his mark on the information security industry. George founded CrowdStrike in 2011 and after building it into a $3 billion venture, he helped start the CrowdStrike Foundation in 2017 to help further budding cybersecurity pros through scholarships."
RSA: A Resounding Success for CrowdStrike
We want to thank all of our customers who dropped by our booth, attended one of our demos or sessions, or attended one of our events— it was truly delightful to see you. We appreciate your continued loyalty and hope you found your RSA experience a rewarding one.
Whether it was the packed audience at CrowdStrike's RSA keynote address, the standing-room-only sessions, or the unprecedented number of visitors to both CrowdStrike booths, this year's RSA event was especially rewarding for the CrowdStrike team. Below are some additional highlights from RSA 2019.
CrowdStrike Falcon® for Mobile
We introduced the latest addition to the Falcon platform —  Falcon for Mobile™ —  the first endpoint detection and response (EDR) solution for mobile devices. We were thrilled when Falcon for Mobile was honored during the event by being named one of CRN Magazine's "Hot New Products" at RSA. It is the only comprehensive tool that enables proactive threat identification and response, and incident investigation, on Android and iOS mobile devices. This new solution, which will be generally available in May, is based on CrowdStrike's tried, tested, and proven EDR technology for enterprise endpoints.
Keynote Address by George Kurtz and Dmitri Alperovitch
We were honored to have our co-founders offer a keynote this year: "Hacking Exposed: Hacking Macs." Before a packed audience, CrowdStrike's CEO Kurtz and CTO Alperovitch conducted a presentation that included demonstrations of cyberattacks against Macs and the countermeasures that are most effective against them.
They also introduced a new incident response tool for Macs that automates forensic collection. As in past years, they presented adversary "awards" —  this year's were christened "The Cuffies," symbolizing the handcuffs that these criminal groups truly deserve for their efforts. These "awards" recognized the nefarious adversaries that were the most notable in 2018. Two of this year's winning Adversaries were: WICKED PANDA for Worst Mac Actor and COZY BEAR for Fastest Actor. The duo also presented CrowdStrike's first Lifetime Achievement Award, honoring the legendary U.S. Air Force fighter pilot and military strategist John Richard Boyd, creator of the OODA Loop concept that revolutionized air combat and later formed a foundation for more proactive and effective cyber threat response and mitigation. This presentation is now available on the RSA 2019 site.
Dynamic Sessions from CrowdStrike Leaders
This year, CrowdStrike experts delivered several sold-out sessions on topics that are front and center for today's security professionals. These sessions included:
A presentation by CrowdStrike CSO and President of Services Shawn Henry who with Steve Chabinsky, global chair of data, privacy & cybersecurity at White and Case LLC (and Former CrowdStrike General Counsel and Chief Risk Officer) spoke on "Advancing Incident Response in the Age of New Compliance Requirements." (The video is available here.) They argued that modern incident response (IR) must start with a holistic view of cyber-crisis management that includes many elements —  from operational, strategic and legal considerations to public disclosure requirements. They also offered best practices for ensuring your organization's cyber readiness. Learn more about cybersecurity guidance for legal professionals.
A panel featuring CrowdStrike VP of Services Tom Etheridge with "Tales from the Front Lines," offered real-world examples of how organizations are being attacked, who is attacking them and what countermeasures organizations can employ. Learn more about Crowdstrike Incident Response.
In his presentation, "The Art of Remediation," CrowdStrike VP of Managed Services Austin Murphy discussed the advantages of remote remediation and how it eliminates the disruption to business operations. Learn more about CrowdStrike Services offerings.
Additional Resources
Related Content