IntSights Partner Solution Brief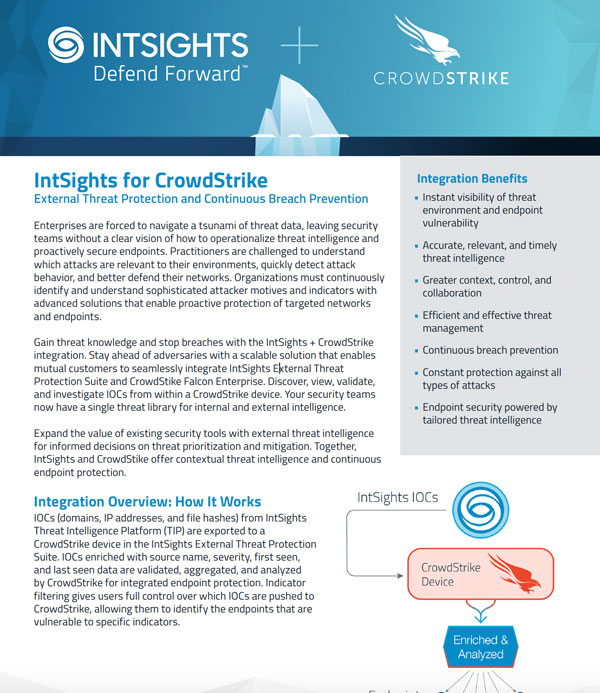 External Threat Protection and Continuous Breach Prevention
Enterprises are forced to navigate a tsunami of threat data, leaving security teams without a clear vision of how to operationalize threat intelligence and proactively secure endpoints. Practitioners are challenged to understand which attacks are relevant to their environments, quickly detect attack behavior, and better defend their networks. Organizations must continuously identify and understand sophisticated attacker motives and indicators with advanced solutions that enable proactive protection of targeted networks and endpoints.
Gain threat knowledge and stop breaches with the IntSights + CrowdStrike integration. Stay ahead of adversaries with a scalable solution that enables mutual customers to seamlessly integrate IntSights External Threat Protection Suite and CrowdStrike Falcon Enterprise. Discover, view, validate, and investigate IOCs from within a CrowdStrike device. Your security teams now have a single threat library for internal and external intelligence. Expand the value of existing security tools with external threat intelligence for informed decisions on threat prioritization and mitigation. Together, IntSights and CrowdStrike offer contextual threat intelligence and continuous endpoint protection.
Discover More at our

Resource Center
For technical information on installation, policy configuration and more, please visit the CrowdStrike Tech Center.
Visit the Tech Center