Securonix Partner Solution Brief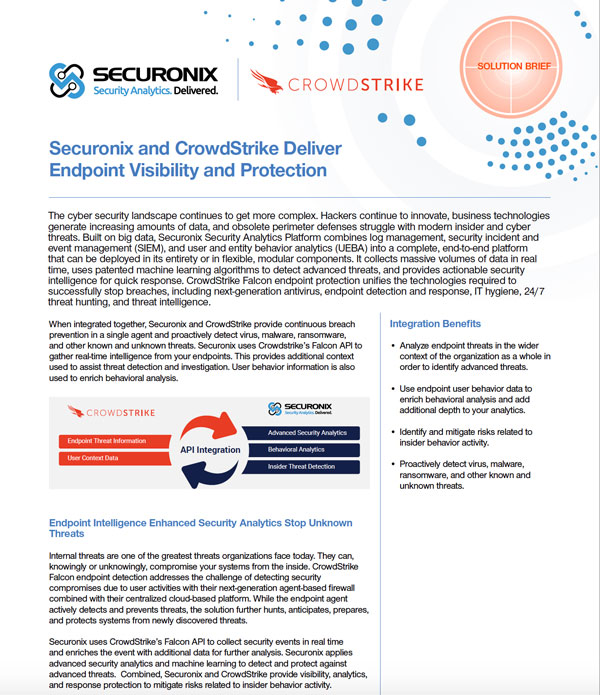 Securonix and CrowdStrike Deliver Endpoint Visibility and Protection
The cyber security landscape continues to get more complex. Hackers continue to innovate, business technologies generate increasing amounts of data, and obsolete perimeter defenses struggle with modern insider and cyber threats. Built on big data, Securonix Security Analytics Platform combines log management, security incident and event management (SIEM), and user and entity behavior analytics (UEBA) into a complete, end-to-end platform that can be deployed in its entirety or in flexible, modular components. It collects massive volumes of data in real time, uses patented machine learning algorithms to detect advanced threats, and provides actionable security intelligence for quick response. CrowdStrike Falcon endpoint protection unifies the technologies required to successfully stop breaches, including next-generation antivirus, endpoint detection and response, IT hygiene, 24/7 threat hunting, and threat intelligence.
When integrated together, Securonix and CrowdStrike provide continuous breach prevention in a single agent and proactively detect virus, malware, ransomware, and other known and unknown threats. Securonix uses Crowdstrike's Falcon API to gather real-time intelligence from your endpoints. This provides additional context used to assist threat detection and investigation. User behavior information is also used to enrich behavioral analysis.
Discover More at our

Resource Center
For technical information on installation, policy configuration and more, please visit the CrowdStrike Tech Center.
Visit the Tech Center