SOC Modernization and the Role of XDR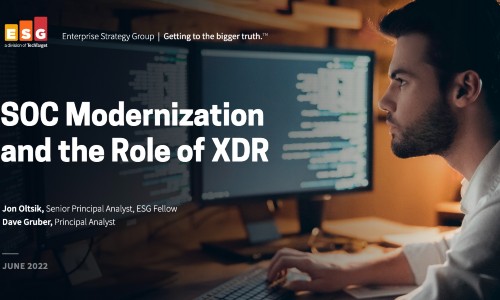 It's no secret security operations can be complex – over half (52%) of IT and security pros are saying that SecOps are more difficult today than they were two years ago. Some of the reasons include:
Dozens of point products: 66% of organizations are actively consolidating the number of security operation tools
Numerous data sources & alerts: 80% of organizations use more than 10 data sources as part of security operations
Lack of experts: 81% of organizations agree their security operations are impacted by the cybersecurity skill shortage
From the massive pressure to detect and respond to threats to the persistent need to improve visibility and scalability, security professionals need to optimize their SOCs to ultimately keep organizational risk minimized. Download the complimentary ESG eBook, sponsored by CrowdStrike, "SOC Modernization and the Role of XDR" to:
Understand key factors, and the numbers behind them, that drive the need to reevaluate security operations.
See how IT and security professionals fared when asked how MITRE, managed services, XDR and automation impact security operations.
Get insights into the key benefits XDR lends to SOC optimization efforts.
---
Discover More at our

Resource Center
For technical information on installation, policy configuration and more, please visit the CrowdStrike Tech Center.
Visit the Tech Center