Container Security is the continuous process of protecting containers from vulnerabilities. This includes the container pipeline, deployment infrastructure, and supply chain. Container security differs from traditional security because the container environment is more complex and ephemeral, and therefore the process of securing containers is continuous.
A container is a package of software and its dependencies — such as code, system tools, settings and libraries — that can run reliably on any operating system and infrastructure. A container consists of an entire runtime environment, enabling applications to move between a variety of computing environments, such as from a physical machine to the cloud, or from a developer's test environment to staging and then production. Containers are a useful tool, but they are not built with a security system of their own, meaning they introduce new attack surfaces that can put the organization at risk.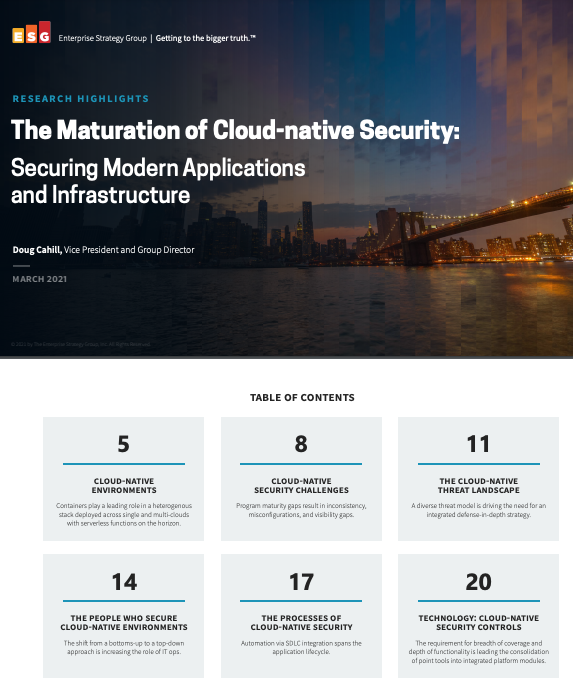 ESG Report: The Maturation of Cloud Native Security
Learn about cloud-native security challenges and how maturity gaps result in inconsistency, misconfigurations and visibility gaps.
Download Now
Container Security Challenges
Containers do not include security capabilities and can present some unique security challenges.
Visibility
The primary challenge is visibility. Visibility is the ability to "see" into a system to understand if the controls are working and to identify and mitigate vulnerabilities. Containers can lack centralized control, so overall visibility is limited, and it can be hard to tell if an event was generated by the container or its host. And because containers are short-lived, forensic evidence is lost when they are terminated.
It can be difficult for enterprises to know if a container has been designed securely. Typically, the IT team receives a container from a development team, which most likely was built using software from other sources, and that other software was built using yet another software, and so on. Unless security was documented in the development and the container's user has access to that documentation, it is reasonable to assume that the container is insecure.
A Set and Forget Mentality
Another container management pitfall is that managers often utilize a containers a "set and forget" mentality. But like any other part of the computer environment, containers should be monitored for suspicious activities, misconfigurations, overly permissive access levels and insecure software components (such as libraries, frameworks, etc.). What was secure yesterday is not guaranteed to be secure today.
Vulnerability Scanning
Some enterprises do a good job of subjecting their containers to security controls. And that responsible approach gives rise to a new set of problems: Every vulnerability scan produces a massive volume of results that have to be sorted, prioritized and mitigated. Teams that still rely on manual processes in any phase of their incident response can't handle the load that containers drop onto them.
Traditional tools mostly focus on either network security or workload security. But securing containers requires attention to both, since hosts, networks and endpoints are all part of a container's attack surface, and vulnerabilities exist in multiple layers of the architecture.
How to Secure Containers
To protect a container environment, the DevOps pipeline, including pre- and post-runtime environments have to be secured.
Image Scanning
Container Security starts with a secured container image. Developers sometimes use base images from an external registry to build their images which can contain malware or vulnerable libraries.
Developers also can forget to remove passwords and secret keys used during development before pushing the image to the registry. When the infrastructure is compromised these passwords would be leaked along with the images.
That's why it's critical to integrate an image assessment into the build system to identify vulnerabilities, and misconfigurations.
"SHIFT-LEFT" SECURITY INTO THE CI/CD PIPELINE
Integrating your container security tool with your CI/CD pipeline allows for:
Accelerated delivery: Create verified image policies ensuring only approved images are allowed to progress through your pipeline and run on your hosts or Kubernetes clusters.
Continuous Threat Detection: Continuously scan container images for known vulnerabilities, configuration issues, secrets/keys and OSS licensing issues.
Improved vulnerability posture of your pipeline: Uncover hidden malware present in the downloaded base images before containers are deployed.
Smoother secops: Streamline visibility for security operations by providing insights and context for misconfigurations and compliance violations.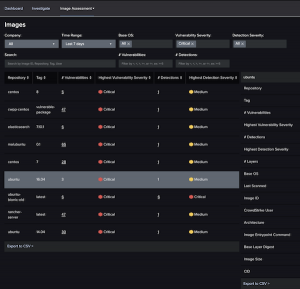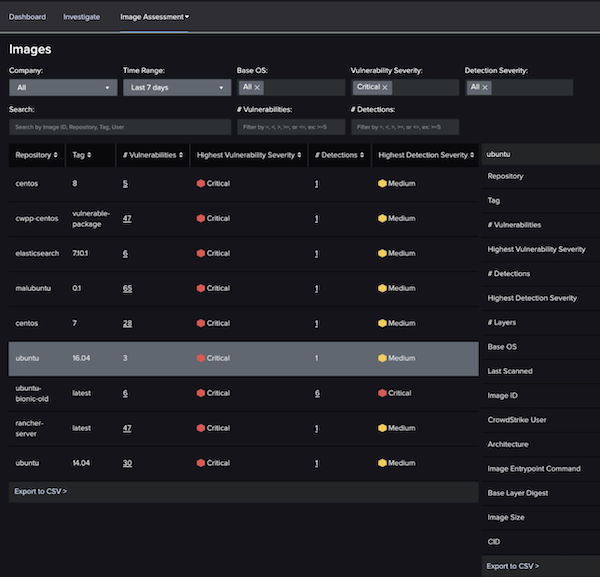 Runtime Protection
To protect application data on a running container, it's important to have visibility within the container and worker nodes. An effective container security tool should capture and correlate realtime activity and meta data from both containers and worker nodes.
This level of visibility helps to:
Stop malicious behavior: Behavioral profiling enables you to block activities that violate policy with zero impact to legitimate container operation.
Investigate container incidents faster: Easily investigate incidents when detections are associated with the specific container and not bundled with host events.
See everything: Capture start, stop, image, container runtime information and all events generated inside each and every container.
Deploy seamlessly with Kubernetes: Deploy easily at scale by including it as part of a Kubernetes cluster.
Improve container orchestration: Capture Kubernetes namespace, pod metadata, process, file and network events.
What Are the Common Cloud Container Platforms?
Containers are suited for cloud environments because they deliver more services on the same infrastructure as hypervisors, which makes them more economical and faster to deploy.
There are many approaches to containerization, and a lot of products and services have sprung up to make them easier to use. These are the most popular platforms that are relevant to container technology:
CrowdStrike's Container Security Solution
The CrowdStike Falcon® platform offers security teams a full range of cloud security tools to help protect your cloud environments: