Changing the Game with ExPRT AI: Exploit Prediction AI and Rating for Falcon Spotlight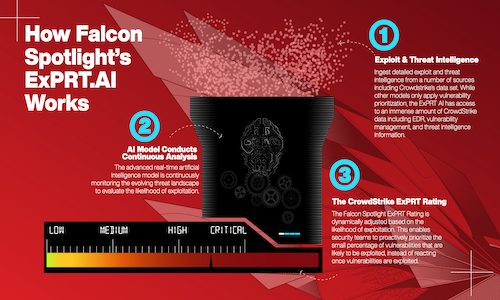 SecOps face an increasingly daunting task in protecting their environments: limited time and a constant, ever-growing body of vulnerabilities. Many of these vulnerabilities are given a severe rating, which only increases the pressure for SecOps to quickly review and mitigate.
Once a vulnerability has been identified – it is given a rating via the industry-standard Common Vulnerability Scoring Systems (CVSS) and severity set through the National Vulnerability Database (NVD). These rankings are static. If a situation changes around a particular vulnerability for better or worse, the initial rank stays the same.
For SecOps all around the world – this is a problem. What these teams need is something more dynamic, more intuitive, with the ability to prioritize the vulnerabilities that pose a real and immediate risk to their organization's environments.
That's why CrowdStrike developed ExPRT.AI for Falcon Spotlight. ExPRT.AI or the Expert Prediction Rating artificial intelligence model capitalizes on a wide variety of vulnerability and threat-based telemetry, including CrowdStrike's own threat intelligence to provide a dynamic, responsive ExPRT Rating within Falcon Spotlight's console.
Read this to learn:
How ExPRT.AI ever-adapting model works
What a dynamic vulnerability score means for your staff
How your team can process vulnerabilities that are truly critical to your organization's environment
Discover More at our

Resource Center
For technical information on installation, policy configuration and more, please visit the CrowdStrike Tech Center.
Visit the Tech Center