Spectra Alliance's Strategic Approach to Zero Trust Adoption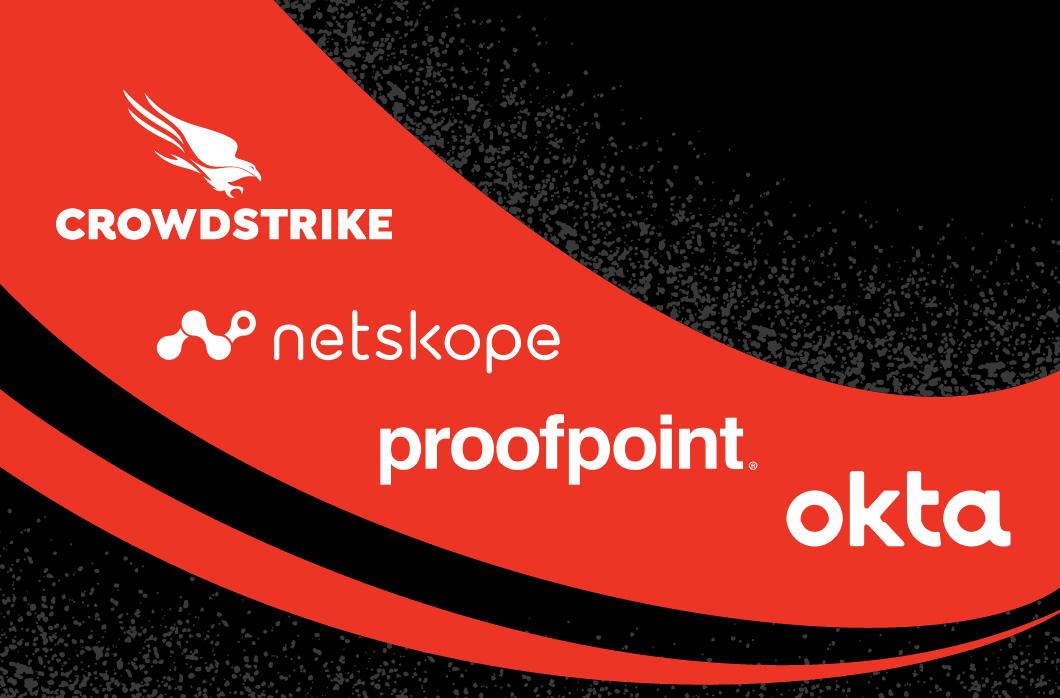 The concept of Zero Trust has recently gained popularity, as the global pandemic has fundamentally changed many aspects of work and business, including cybersecurity. Organizations of all sizes are being forced to rethink their remote workforce accessibility and operating models to continue supporting productivity at scale, while recognizing the expanded attack surface and increasingly complex threat landscape. Zero Trust is a security framework that emphasizes stronger access controls and streamlined process and policy changes for the six core elements of any environment: identities, devices, applications, data, networks and infrastructures.
CrowdStrike, Netskope, Okta and Proofpoint have joined together in the Spectra Alliance to help better safeguard organizations by delivering frictionless adoption of the Zero Trust framework across the six core elements to protect today's dynamic and remote working environments at scale.
Simplified and Accelerated Zero Trust Framework Adoption
Organizations need to pick the right approach when adopting Zero Trust across their digital estate to keep their remote workforce productive, maintain business continuity and support uninterrupted compliance by protecting business entities no matter where they are.
If you have a highly distributed workforce and agnostic device ecosystem, a multi-generational, hybrid operating environment, or a broad data management and ownership landscape, then you need to consider a strategic Zero Trust adoption with in-depth technology, advisory and support across the breadth of the core six elements.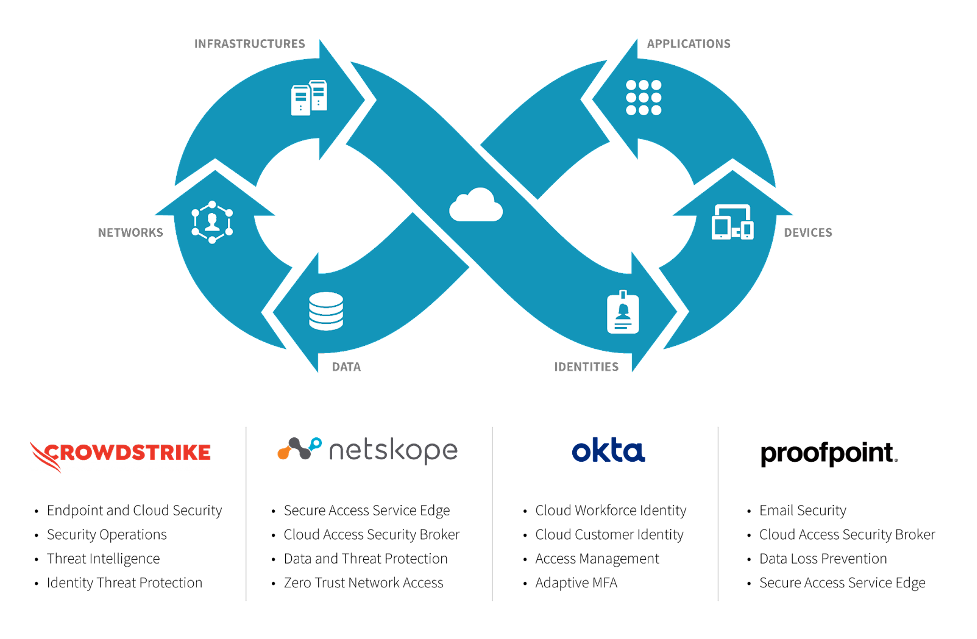 Together, CrowdStrike, Netskope, Okta and Proofpoint make it easy to bring the best-of-breed security stack to your organization, providing tight integrations across the Zero Trust ecosystem to help your security and IT teams enable secure, seamless work for every user — regardless of the application, device, network or location.
How CrowdStrike Fits Within the Spectra Alliance 
The CrowdStrike® Falcon platform provides real-time, continuous visibility and security across the organization's assets — regardless of whether they are on or off the enterprise network — coupled with one of the industry's highest-fidelity attack correlations and fastest policy enforcement, with no additional resource overhead. CrowdStrike Falcon® Zero Trust Assessment evaluates endpoint health across a variety of touchpoints, including endpoint hardware, firmware and operating system versions. Falcon Identity Protection uses 100+ signals based on dynamic risks and deterministic behavior, and passes decisions back to network and cloud security edge services and identity and access management (IAM) controls for challenge, blocking or permitting access. Together, these integrated solutions supply deep real-time visibility into device posture and user login context so your teams can make informed, reliable access decisions and stop breaches.
CrowdStrike integrates with Proofpoint deliver threat intelligence sharing and analysis; with Netskope on threat detection and response, and threat intelligence exchange; and with Okta for dynamic device posture assessment from devices that do not meet the posture requirements. Together, CrowdStrike and its Spectra Alliance partners provide joint customers with increased real-time, actionable threat forensics and enhanced malware protection on endpoints and in the cloud.
"Better Together" Integrated Solution Benefits 
Safe access to applications and data, from anywhere, on any device:

Move beyond using legacy VPNs for remote network access to a modern, secure application-specific mode that works on any endpoint, workload, identity or application. 

Add layers of data protection:

Provide extra layers of data protection when users browse the web or use cloud apps, and also provide visibility into potentially risky behaviors now that corporate resources are more easily accessible and the workforce more remote. 

Enhance web and cloud security:

Enable safe access to the web and to cloud applications by enforcing acceptable use policies, app risk levels and activities for your organization's headquarters, remote offices and remote workers.

Strengthen and integrate endpoint security:

Enhance security for all endpoints, and integrate threat signals to quickly detect and respond to p

rotect against known and unknown malware, and attacks that do not use malware.

Make the end user an asset to your security team:

Educate end users on modern threats and the best ways to respond, and simplify the end user experience with security awareness training and extended identity verification. 

Take a proactive approach to defense and streamline remediation

: Exchange threat forensics between cloud security and endpoints to enhance your organization's security posture. Leverage integrations across solutions to streamline shared intelligence across tools, automate response workflows and take a proactive approach to defense-in-depth.
Unrivaled Protection and Streamlined Zero Trust with the Spectra Alliance
The Spectra Alliance offers integrated solutions that streamline adoption of Zero Trust security and implement best practices and guidance, providing best-of-breed solutions for your organization's digital transformation journey. This proactive approach helps achieve Zero Trust outcomes across identities, devices, applications, data, networks and infrastructure and provides organizations with strategic advisory, technology and support — all agnostic of deployment models and cloud providers. 
Join a panel of executive leaders from the Spectra Alliance for a lively discussion about security modernization and Zero Trust in today's landscape, hosted by ESG industry analysts. Register here to learn about five different approaches to Zero Trust and what is best for your organization. 
Additional Resources

Related Content