How to Replace Traditional Antivirus (AV) with CrowdStrike Falcon
Introduction
This document will cover the simple steps of replacing your traditional antivirus (AV) vendor with CrowdStrike.
Video
Prerequisites
This document assumes that you're a customer with a pre-existing AV solution that you'd like to either replace or run along side Falcom.
For basic product installation please see the blog dedicated to the installation of Falcom
Windows Server
Windows
Mac
Linux
Supported Platforms
Win Server 2008R2 SP1 and above
Win 7 SP1 and above
OSX 10.8 and above
– RHEL 7.0-7.2
– RHEL 6.2-6.8
– CentOS 7.0-7.2
– CentOS 6.2-6.8
– Ubuntu 14.04 LTS (minimum kernel version 3.13.0-32)
– SUSE Linux Enterprise Server 11.3-11.4 (minimum kernel version 3.0.101-0.47.55.1)
– SUSE Linux Enterprise Server 12-12.1 (minimum kernel version 3.12.39-47)
Step-by-step
Falcon's versatility as an AV, EDR or Intel product makes it a perfect solution to install with other security technologies.  For example, if you've got an existing AV solution in place and would like to add Falcon Insight or Falcon Intel, they can easily be installed to provided those important layers.
However, it is not recommended to install Falcon Prevent in prevention or blocking mode simultaneous with other AV solutions also in blocking mode.
If you are adding Falcon Prevent to your security solution it is recommended that you install Falcon with a DETECT ONLY policy.  For more information on policies see the article on the tech center here regarding policy configuration.   Below is an example of a policy with preventions disabled.  This policy can safely be installed along side another AV solutions.  However reliance on traditional AV solutions should be temporary.  Next we'll illustrate the removal of the old solution and implementing a blocking policy in Flacon.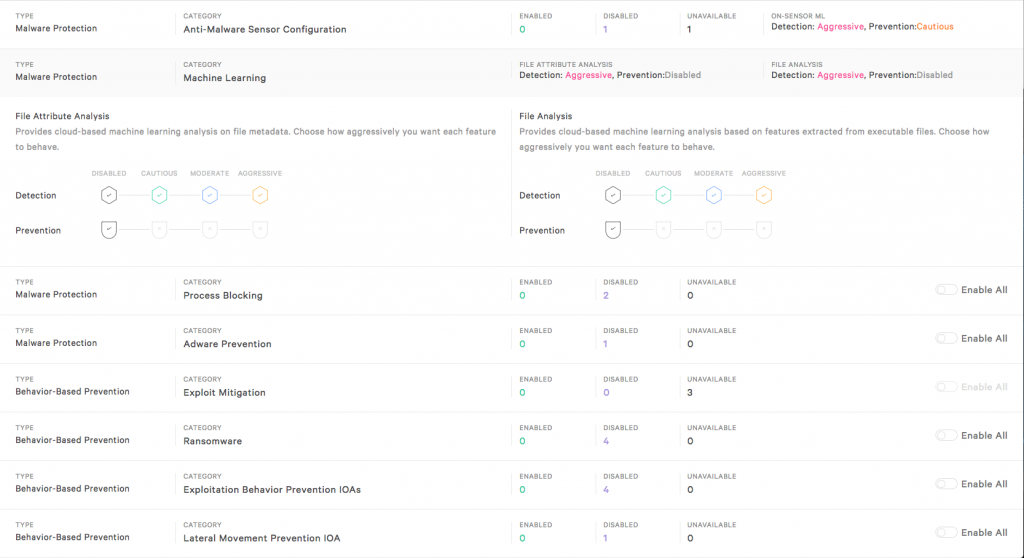 To remove the other AV vendor from a host machine just utilize the "Add/Remove Programs" feature in the Windows Control Panel and uninstall the application.  For an organization wide removal group policy, SCCM, or other utilities will be used to remove the old application from the production environment.
Once there select the previous AV vendor and then select the "uninstall" option that appears above the list of installed programs.  Different vendors may have additional steps or multiple applications that will need to be removed.
Note: In the case of McAfee uninstall the McAfee Agent last, removing all the other installed programs first.  This order seems to be the most effective in our experience (Some vendors may require a reboot.)
After a reboot, if necessary, verify that the uninstall was successful in the Action Center.  Open the Action Center and navigate to the Control Panel -> System and Security -> Action Center
Under "Virus Protection" and "Spyware and Unwanted Software protection" CrowdStrike should be the only listed vendor.
Next we'll change the policy in Falcon from a detection policy to prevention and detection.  Doing this should be done after testing on a subset of systems in your organization to ensure the desired levels of information are received in the Falcon console.
Verify that the policy changes apply to the group of systems intended by clicking on the "current members" tab at the top of the policy configuration page.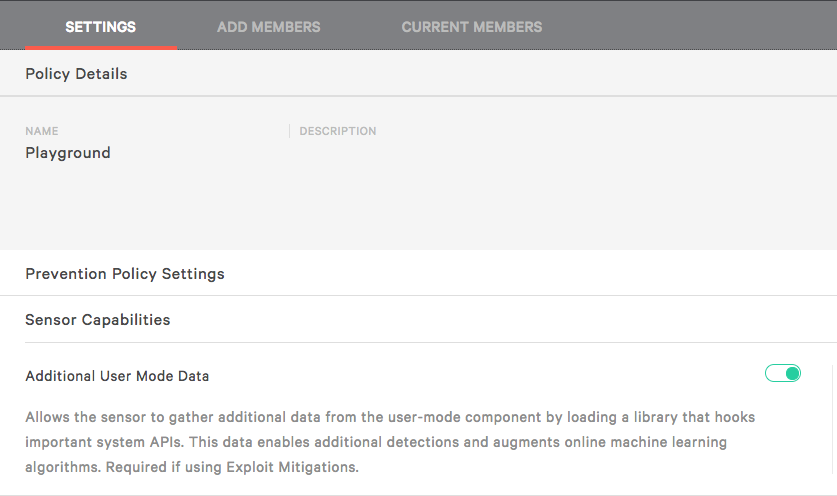 Before leaving any page make sure the changes are saved and that the policy has been enabled.  While policy changes happen relatively quickly moving machines from one policy to a new or different policy may take more time before changes take affect.
More resources