Cybersecurity for education
Academic institutions need a solution that protects against cyber threats, from simple to sophisticated. CrowdStrike redefines modern security to protect students, faculty and staff on and off campus.
Serving and securing CrowdStrike education customers
Flat/Declining
Budgets
The CrowdStrike Falcon® platform ensures robust protection while making efficient use of scarce education budgets.
Lack of Visibility, Control and Data Fidelity
CrowdStrike identifies and protects your entire campus environment — including identities, and whether remote, on-premises, mobile, cloud, server or container — with threat intelligence to stop breaches.
Staffing Challenges
CrowdStrike is a force multiplier with CrowdStrike Falcon® Complete™ managed identity and endpoint protection, Falcon OverWatch™ managed threat hunting and CrowdStrike Services to function as an extension of your security teams 24/7.
Cyber Threats and Evolving Adversary Techniques
Schools are popular targets for ransomware. CrowdStrike continues to enhance protections as adversaries continue to advance their techniques. CrowdStrike is your best partner to help you stop breaches.
Legacy Infrastructure and Solutions
As educational institutions are streamlining services, modernizing systems and embracing cloud solutions, leveraging modern cloud-based security protections is essential to protect against emerging threats.
Education organizations trust CrowdStrike
CrowdStrike's mission is simple: Keep students, faculty and staff safe from breaches. CrowdStrike customers are proud to tell their stories of how the CrowdStrike Falcon® platform meets their security challenges of today and allows them to defend against the adversaries of tomorrow.
Ashland University
"We're part of the global collection of organizations using the CrowdStrike Falcon® platform and through the exchange of intelligence, we're all effectively cooperating on security. If any of us detects suspicious behavior, CrowdStrike analyzes the threat and propagates preventative controls to everyone." - Scott Stoops, Security Analyst Engineer, Ashland University
Parkway School District
"When we engaged CrowdStrike it was a complete 180. It was, OK, now we found that a partner that's going to get us back to a stable operating point, and make us feel like we're actually winning this battle against this malware that's spreading like wildfire through our environment." - Jason Rooks, Director of Technology and Innovation, Parkway Schools
What our customers say about us
"Humio's unlimited ingest pricing now enables us to scale our data without worry. "
- Rob McCurdy, CIO, Michigan State University
"With Humio, it's easier and faster to search than it was with previous solutions. We can get to the root of malicious activity like phishing attacks more quickly and efficiently. "
- Mitch Parks, Chief Information Security Officer, University of Idaho
"I looked at many different systems as part of an evaluation, and in the end, I felt that Humio [a CrowdStrike company] provided the best combination of cost and features/benefits."
- Rick Miller, Director of Systems Administration, Kutztown University
"It's like having 20 people on our team without having to pay for 20 people's salary. "
- Rodney Mack, Chief Technology Officer, Indian Prairie School District 204
Whole-of-state cybersecurity with CrowdStrike
Today's adversaries are getting faster and more complex. But adopting a whole-of-state approach can solve resource constraints while enabling an agile, more collaborative cyber defense. Learn how CrowdStrike provides complete security for state and local government and education.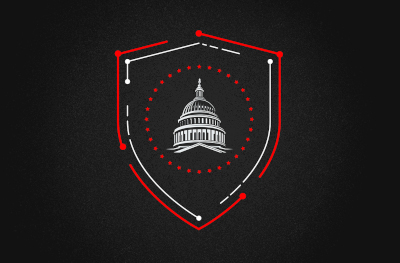 CrowdStrike Falcon® on GovCloud
CrowdStrike partners with AWS to deliver a wide range of next-generation endpoint protection capabilities via GovCloud:
Rapid deployment for unrivaled time-to-value with no on-premises infrastructure or reboot required
Increased cloud security: FedRAMP-authorized
Integrated threat intelligence: We monitor trillions of cyber events including over 187 million indicators of compromise (IOCs) with automated threat actor attribution enabling predictive defense
Operated and managed by U.S. personnel — for more details about GovCloud, please see the AWS GovCloud FAQ
Zero burden —Falcon Complete, CrowdStrike's managed detection and response service, handles all aspects of endpoint protection, freeing your staff to focus on your own mission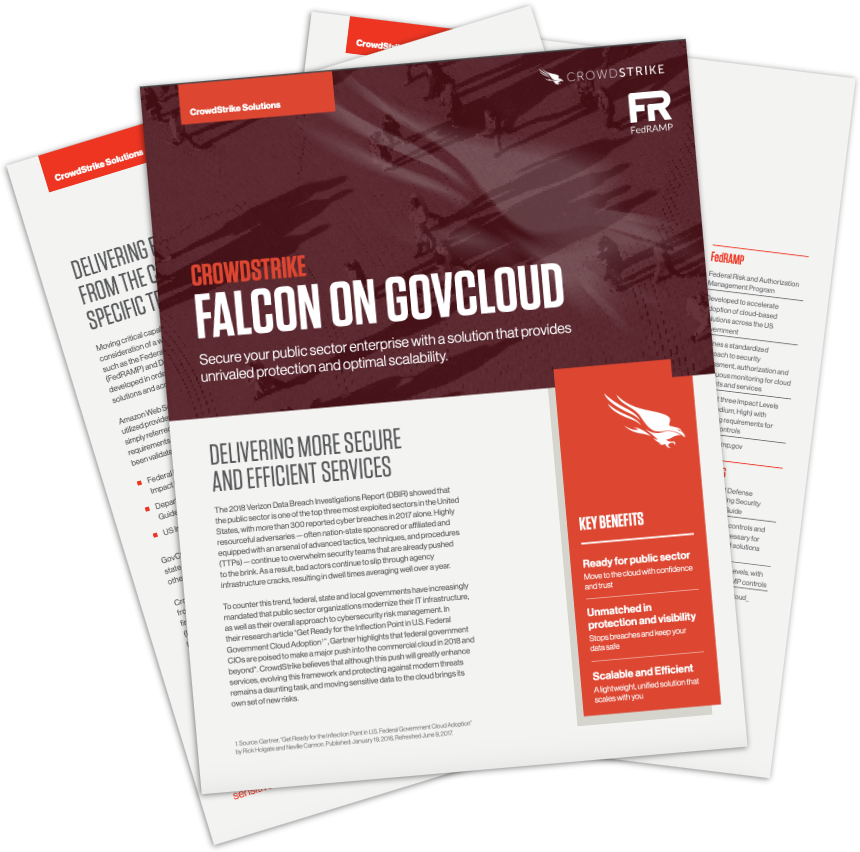 The new standard for workload protection
Single lightweight agent with nominal performance impact and no reboot required upon installation, and delivered via a native-cloud SaaS architecture.
24x7 continuous threat hunting with CrowdStrike Falcon® OverWatch™.
Industry-leading machine learning stops the most sophisticated malware and nation-state attacks.
Integrated intelligence correlates IOCs and indicators of attack (IOAs) with adversaries targeting educational entities.
Open API library allows for context-rich integration into SIEM, SOAR and other third-party tools.
Expert management. Falcon Complete's experts handle management, monitoring and responding to threats, 24/7, freeing your team to focus on your strategic priorities.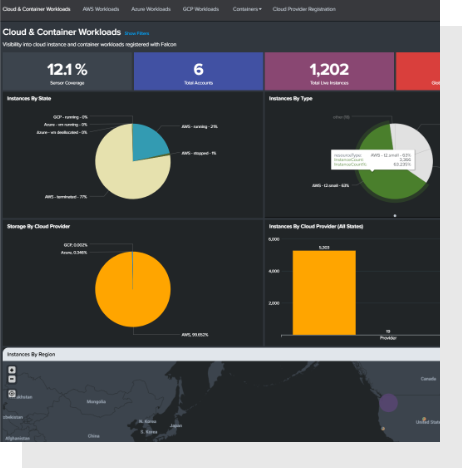 Helping to implement best practices security frameworks
As a longtime partner of the public sector, CrowdStrike has worked to ensure that the Falcon platform helps customers adhere to the strictest cybersecurity frameworks:
DFARS 252.204-7012
US NIST 800-171/172
US NIST CyberSecurity Framework (CSF)
Learn more about how CrowdStrike can help you meet your regulatory needs.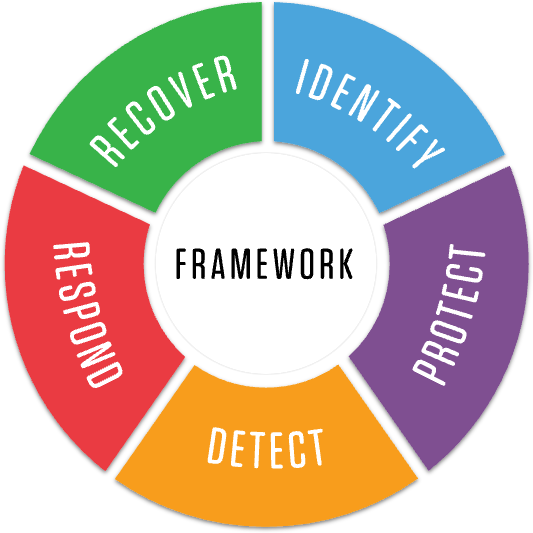 Identity protection
Build a comprehensive identity security solution and accelerate your Zero Trust journey with CrowdStrike.
Stop modern attacks like ransomware or supply chain attacks and detect attack tools (e.g., Mimikatz)
Improve the visibility of credentials in a hybrid environment (including identities, privileged users and service accounts)
Enhance lateral movement detection and defense
Extend multifactor authentication to legacy and unmanaged systems
Strengthen the security of privileged users (e.g., privilege escalation, account takeover)
Protect the identity store from protocol attacks (e.g., NTLM) and takeover (e.g., Pass-the-Hash, Golden Ticket)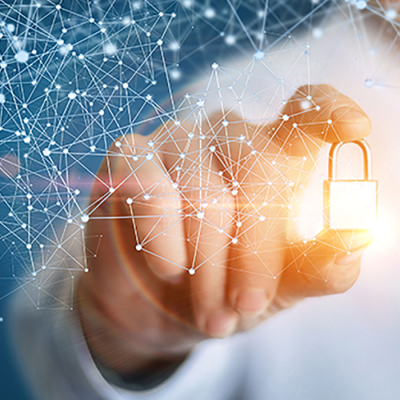 Meet your compliance requirements
Regulatory compliance is critical to education institutions, and CrowdStrike can assist with a broad range of compliance requirements:
Contract Vehicles
CrowdStrike education customers can access CrowdStrike solutions through a variety of Cooperative Purchasing Agreements (CPAs), Blanket Purchase Agreements (BPAs) and Federal Supply Schedules (FSSs). Below are a few highlights. Don't see your contract? Please contact CrowdStrike.
Products
The CrowdStrike Falcon® platform is flexible and extensible with endpoint security modules designed to protect against today's sophisticated threats.
Services
CrowdStrike has the incident response expertise and resources to help you prepare, prevent and respond to attacks.
Stay in the know
Subscribe to CrowdStrike's Public Sector newsletter for up-to-date information. You'll receive exclusive information such as Adversary Alerts on the current threats to government and education, invite-only events and roundtables, and highlights of where you can find us in your community.
University and internship programs
Join the company that's always learning
At CrowdStrike, we offer our interns a positive and supportive environment where they can explore the working world and ignite their passion for the future. Our University Recruiting Program is designed to provide participants the opportunity to work on meaningful projects that support our mission to make the digital world a safer place to live and work.