Ransomware Protection Solutions
Is your business safe from crippling data leaks and ransoms? CrowdStrike's solutions can proactively defend against an increasingly ominous ransomware threat landscape.
The growing ransomware threat
Ransomware has evolved from being a hacker's side hustle, to enterprise-level targeted big game hunting operations conducted by the most sophisticated cybercriminals in the world. In the past year, CrowdStrike observed a 112% increase in demand for access brokers who sell credentials to ransomware operators. 
To successfully stop ransomware, it's more important than ever to secure the most critical areas of risk – endpoints and cloud workloads, identity, and data – and stay ahead of today's threats.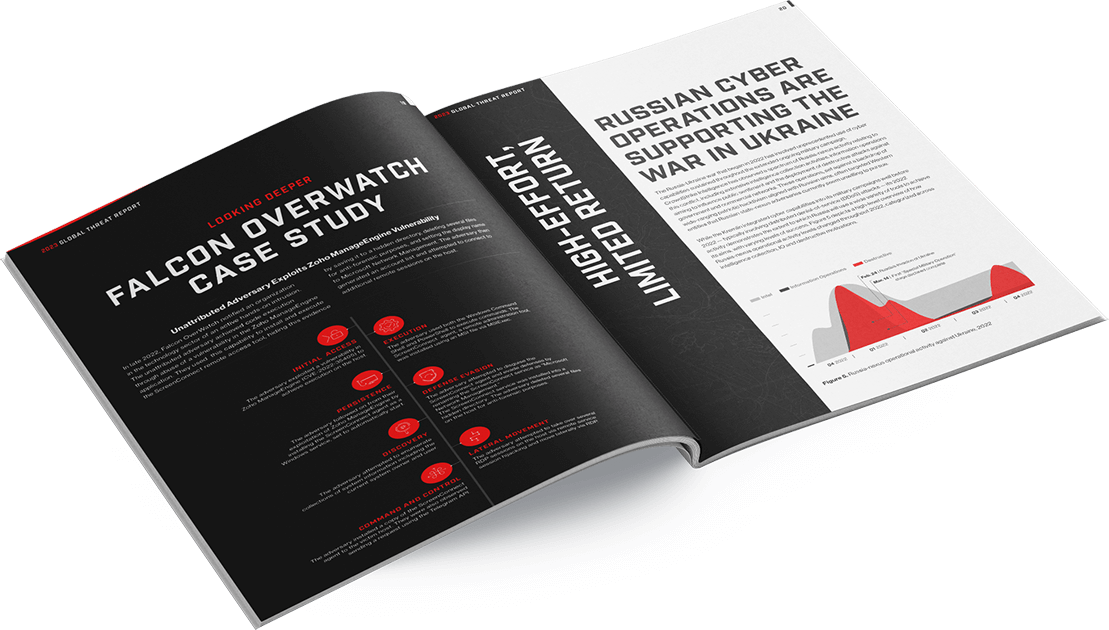 Combating ransomware
CrowdStrike approaches ransomware protection in four key ways:
Prevent
Harness the power of cloud-scale AI and a massive data set - 5 trillion events per week - to prevent ransomware in real-time
Detect
Identify ransomware behaviors with indicators of attack and stop the rapid encryption of files before it takes hold
Respond
Strengthen your team and your security posture with CrowdStrike's seasoned security experts at your side
Predict
Understand your adversary to know what to look for and anticipate the next serious threat
Ransomware solutions
Solutions designed to help businesses prevent, detect, and respond to ransomware threats.
FALCON GO
$4.99/month
per endpoint*
Build your cybersecurity strategy with next-gen antivirus protection, along with visibility and granular control over your devices.
What you get:
Next generation antivirus
Device control
FALCON PRO
$8.99/month
per endpoint*
Superior protection from cyber attacks, detects malicious activity, and offers immediate response capabilities for your small business.
What you get:
Next generation antivirus
Device control
Integrated threat intelligence
Firewall management
FALCON ENTERPRISE
$15.99/month
per endpoint*
Increased data visibility and threat response from automated detections and real experts so you can detect and stop breaches faster.
What you get:
Next generation antivirus
Device control
Integrated threat intelligence
Firewall management
Endpoint detection and response
Threat hunting
*Pricing includes all indicated bundle components for 5-250 endpoints. Billed annually. Contact CrowdStrike for details and pricing at time of purchase or renewal. Pricing is based on quantity of endpoints and Active Directory accounts. **The standard Falcon Free Trial includes Falcon Prevent, Falcon Device Control, Falcon Intelligence, and Falcon Firewall Management.

Trusted by more than 20,000 organizations
61 Fortune 100 companies
Nearly half of Fortune 500
A Majority of Fortune 50 Healthcare, Technology, and Financial companies
And thousands of municipalities, small and medium businesses






Ransomware protection services
Protection doesn't always come down to the best technology, sometimes it's a matter of preparation. CrowdStrike's services put your teams to the test and prepare them for the most likely attack scenarios.
Tabletop Exercise: a tabletop discussion to walk through recent sophisticated ransomware attack scenarios and discuss how your teams would respond.
Red Team / Blue Team Exercise: a collaborative exercise designed to mimic ransomware activities in a step-by-step (red team) attack on your environment with advice from our security experts (blue team) so you can understand the gaps in your ability to detect and respond to ransomware.
Adversary Emulation Exercise: a covert exercise designed to mimic ransomware activities in an external targeted (black box) ransomware emulation attack on your environment to test your ability to detect and defend the network against ransomware.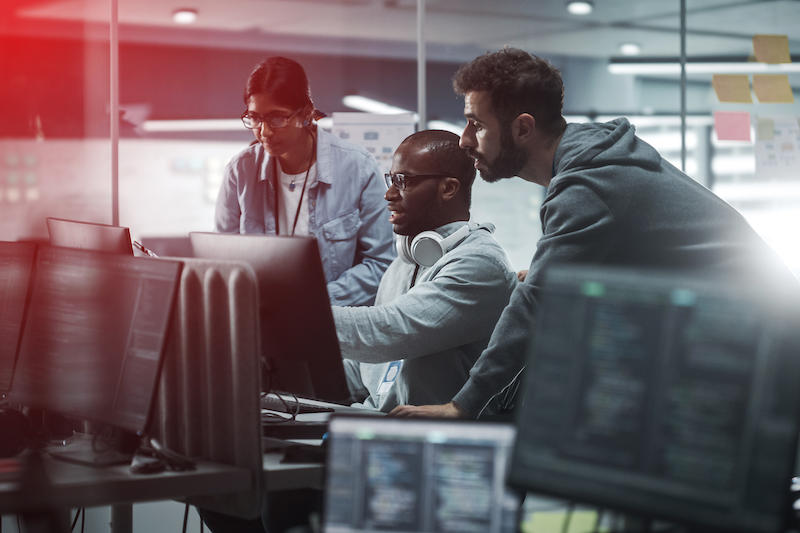 Recognized by industry leaders
CrowdStrike is proud to be a cybersecurity vendor that Gartner, Forrester and IDC have all recognized as a leader in modern endpoint security
2021 GARTNER MAGIC QUADRANT – A Leader
CrowdStrike is proud to be recognized as a Leader and the security vendor placed furthest for Completeness of Vision in the 2021 Magic Quadrant for Endpoint Protection Platforms (EPP)
Q2, 2021 THE FORRESTER WAVE™
CrowdStrike Named a Leader: 2021 Forrester Wave for Endpoint Security Software As A Service with the highest possible score in 17 of the 24 criteria in the evaluation.
THE FORRESTER WAVE™: EXTERNAL THREAT INTELLIGENCE SERVICES, Q1 2021
CrowdStrike named a "Leader" in the Forrester Wave with the top ranking in Market Presence category and highest score possible in 17 criteria.
2020 IDC Market Share Leader – Ranked #1
CrowdStrike was ranked #1 for Modern Endpoint Security 2020 revenue market share in IDC's Worldwide Corporate Endpoint Security Market Shares, 2020 Report
What is ransomware?
Ransomware is a type of malware that encrypts a victim's data until a payment is made to the attacker. If the payment is made, the victim receives a decryption key to restore access to their files. If the ransom payment is not made, the threat actor publishes the data on data leak sites (DLS) or blocks access to the files in perpetuity.
Ransomware remains one of the most profitable tactics for cybercriminals today.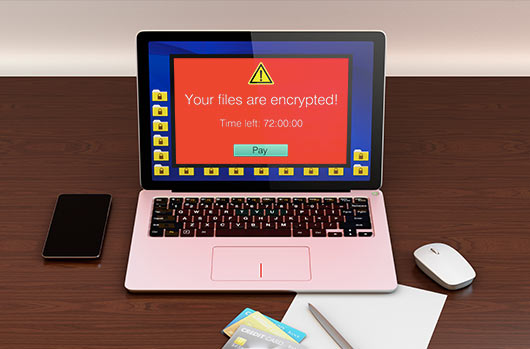 How can you prevent ransomware?
To prevent a ransomware infection, implement the following tips:
Use security software: Protect all devices with security software and keep the software updated.
Understand ransomware threats: Stay informed about the latest ransomware tactics and don't click suspicious links.
Use secure networks: Avoid public Wi-Fi networks where cybercriminals can see what you browse. Instead, you should install a virtual private network to ensure a secure connection to the internet.
Train employees: Provide cybersecurity training to employees at your organization so they understand common phishing attack tactics. You can send fake phishing emails to identify employees who might need further education.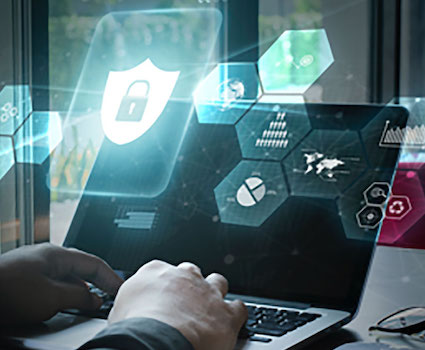 What is big game hunting?
Cyber big game hunting is a type of cyberattack that usually leverages ransomware to target large, high-value organizations or high-profile entities.
Generally speaking, victims are chosen based on their ability to pay a ransom, as well as the likelihood that they will do so in order to resume business operations or avoid public scrutiny.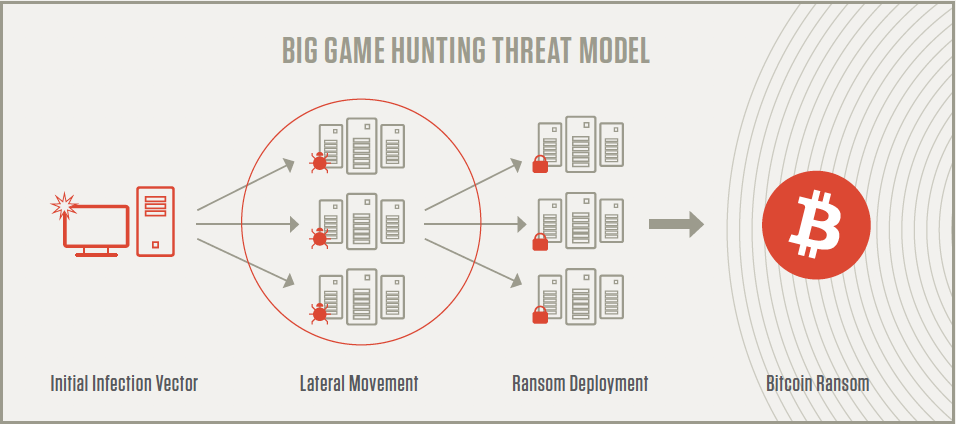 Who is behind ransomware?
A threat actor, also known as a malicious actor, is any person or organization that intentionally causes harm in the digital sphere:
The CrowdStrike OverWatch team hunts relentlessly to see and stop the stealthiest, most sophisticated threat actors: the 1% of 1% of threats who blend in silently, using "hands on keyboard" activity to deploy widespread ransomware attacks if they remain undetected. We know their game, we know their tactics and we stop them dead in their tracks every time.