CrowdStrike's Approach Echoed in RSA 2020 Theme, "Human Element"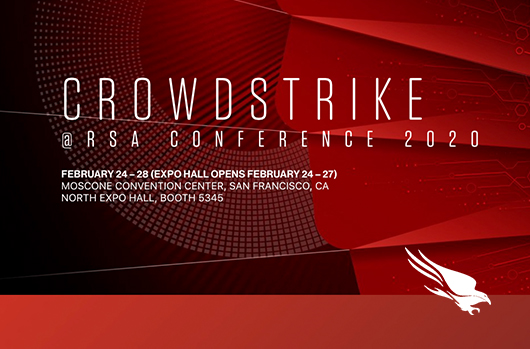 Another year has raced by, and RSA 2020 is only weeks away. CrowdStrike® is gearing up for our best event ever after closing a banner year that saw exciting additions to the CrowdStrike Falcon® platform, continued expansion of our global footprint and an exciting and successful IPO. We are looking forward to a fantastic RSA, and we hope you will share in the important activities and events CrowdStrike has planned.
In explaining this year's theme, RSA writes, "With all the new technologies, strategies and artificial intelligence being employed by both security pros and threat actors, one thing remains constant: us. We are the Human Element within cybersecurity. That's what joins us together."
The human element on all sides of today's cybersecurity challenge is something CrowdStrike has focused on from the beginning. First and foremost is an unwavering commitment to our customers, but the human element impacts every aspect of what we do. From hiring the best and brightest talent across the globe to consistently evolving our technology to stay ahead of the adversary, the human element is a key part of the CrowdStrike Falcon platform.
Our global teams comprise true experts in the industry, including the Falcon OverWatchTM threat hunting team, the CrowdStrike Intelligence threat analysis team and the CrowdStrike Services incident response team. We believe this year's RSA theme is especially relevant to our organization and its mission, and we invite you to meet with CrowdStrike experts at our booth and attend the compelling sessions conducted by our threat hunting, intelligence and services teams.
Exciting Developments at CrowdStrike
We hope you will visit us at RSA 2020 to learn more about CrowdStrike and the important developments over the past year. We have continued to expand the CrowdStrike Falcon platform, adding new capabilities and gaining important new partnerships.
In 2019, we introduced the CrowdStrike Store — where customers can try and buy apps that integrate with our platform to solve specific problems. At RSA, you'll be introduced to some new applications as we continue to engage our partners and add apps at a steady pace. We also launched CrowdScore™ — an important new capability that dramatically reduces the time required to understand and respond to cyber threats by delivering the right information for each stakeholder when and where it's needed.
At our booth, #5345 Moscone North, you can watch demos of the Falcon platform and talk to one of the many CrowdStrike experts who'll be on hand to answer all of your questions. Stop by to learn about recent modules such as Falcon Firewall ManagementTM and Falcon for MobileTM and new capabilities added to Falcon SpotlightTM, our vulnerability management solution. We are also debuting Elite programs, which have been added to our Falcon OverWatch and Falcon XTM Premium modules. From our Services group, you'll learn about CrowdStrike Services enhanced enterprise management capabilities.
CrowdStrike Sessions at RSA 2020: Register Early!
CrowdStrike has sessions and presentations from some of the industry's top thought leaders. Register early because these learning events fill up fast.
Title and Speaker
Description
Date/Time/Link
Tales From the Front Lines 2020

Thomas Etheridge

CrowdStrike VP of Services

Join this panel session and hear VP of Services Tom Etheridge and others  share stories from three of the world's most infamous incident response engagements, including the threat actors involved and the damage done. Learn about the scale and complexity of cyberattacks and get recommendations for how your organization can better secure its data and prevent business disruptions.
Tuesday, Feb. 25

1:00 – 1:50 p.m.

Global Vulnerability Trends: Observations from CrowdStrike's Falcon Spotlight

Hamilton Yang

CrowdStrike Senior Product Manager

Although basic security hygiene is critical to defense against cyberattacks, few organizations know what good hygiene looks like. Join this session to gain insight into your organization's global vulnerability exposure, and learn about the remediation trends that can help increase your cybersecurity readiness.
Tuesday, Feb. 25

3:00 – 3:50 p.m.

Role of the Board in Your Cybersecurity Strategy

Shawn Henry

CrowdStrike President of Services and CSO

This panel discussion features CSO Shawn Henry as he provides unique insights based on working with corporate leadership to help mitigate the risk of a cyberattack. Topics discussed will range from insider threats to targeted nation-state attacks, with panel members highlighting the successes and also the failures. You will also receive guidance on board responsibilities when a breach occurs and how such events test leadership.
Wednesday, Feb. 26

8:00 – 8:50 a.m.
Joins Us for These Special Events
Intel Briefing and Lunch for CrowdStrike Customers: Join CrowdStrike's industry-leading intelligence analysts for a discussion on the adversaries organizations are facing, including the advanced tactics, techniques and procedures (TTPs) they use to circumvent standard security. Space is limited: Request a pass today.
Operationalizing Threat Intelligence for the Enterprise: This session features CrowdStrike threat intel experts discussing the value of threat intelligence and how to operationalize it as part of a successful cybersecurity strategy. Sessions are being offered on Tuesday and Wednesday: Request a pass today.
Cloud Workload Protection Briefing and Breakfast: CrowdStrike customers are invited to join Chief Product Officer Amol Kulkarni as he provides insight into how best to secure and manage infrastructure in the cloud. Don't miss this session as seats will fill up soon. Request a pass today.
CrowdStrike Services Briefing and Lunch: This much-anticipated event for CrowdStrike customers features CSO and CrowdStrike Services President Shawn Henry offering his insights and recommendations taken from real-life incidents his team has investigated. Learn how the Services team responded to and remediated events throughout the past year.  Request a pass today.
Adversary Abstract: "A Night at the MOMA" with CrowdStrike: We are famous for our RSA parties, and the one we have planned for 2020 will be better than ever. Be sure to attend this fantastic gathering, which will be held at SFMOMA. You'll enjoy an evening filled with art, entertainment, food, drinks and surprises!  Request your pass for this fun-filled evening now!
The Partner Hour: We are adding a new feature at our booth to highlight our CrowdStrike Store Partners and their innovative apps. On Tuesday and Thursday, designated partners will be in the booth to demo their CrowdStrike Store apps and award prizes. Please join us for these informative demos — hours are as follows:
Tuesday, Feb. 25: 11:00 a.m. – 12:00 p.m. and 3:00 p.m. – 4:00 p.m.
Thursday, Feb. 27: 11:00 a.m. – 12:00 p.m.
Demos and Prizes at Our Booth!
Be sure and stop by our booth — #5345 Moscone North — to watch theater demonstrations of the Falcon platform's true next-gen capabilities. As in prior years, we are offering demos every hour on the hour, so you can fit one into your busy RSA schedule. CrowdStrike experts are excited to show you how we continue to innovate — adhering to our commitment to keep our customers steps ahead of even the most sophisticated adversaries. Our experts will be on hand to answer any questions, and you'll also get a chance to claim some really cool gifts, including customized adversary t-shirts (back by popular demand) and some exciting new surprises we have planned.
We look forward to seeing you at RSA 2020! 
Additional Resources: