SMB Cybersecurity: How Small Businesses Solve Big Challenges with CrowdStrike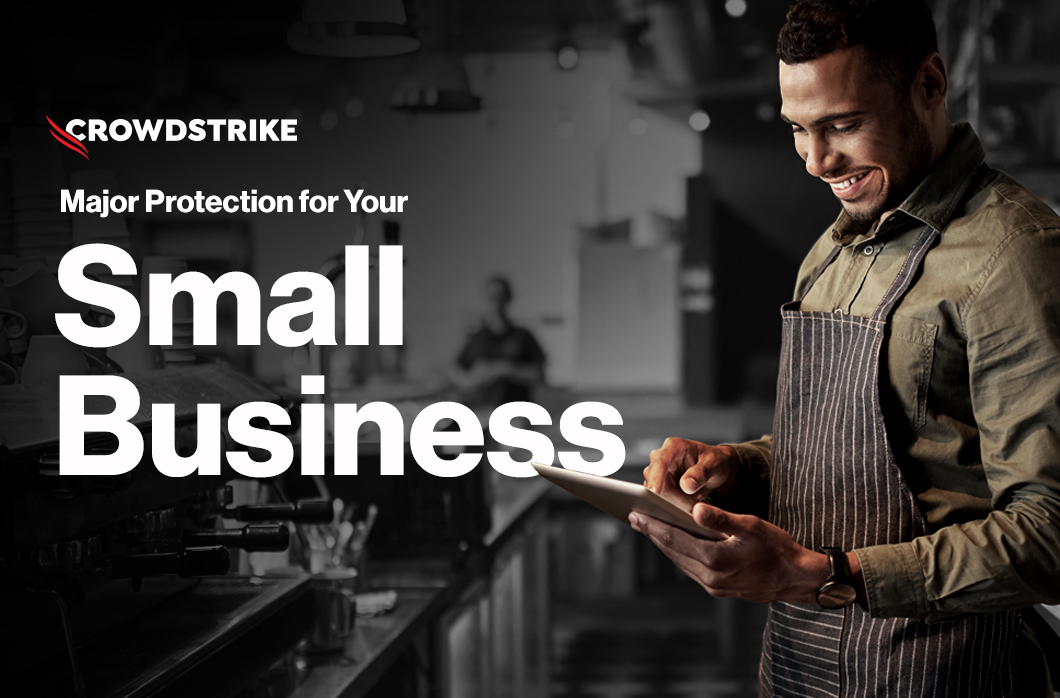 The cybersecurity threats facing small  and medium-sized businesses (SMBs) are real and growing. The FBI's Internet Crime Complaint Center reports a majority of the 800,000+ complaints they received regarding cyberattacks in 2021 targeted small businesses.
A cyberattack can cause significant damage to any organization. But for SMBs, a security incident that causes productivity loss, financial trouble or reputation harm can be devastating. A recent survey found 60% of all small businesses that are victims of a data breach permanently close their doors within six months of the attack. 
Cybercriminals increasingly target SMBs because they can represent softer targets than large enterprises. SMBs often lack the resources, technical expertise and mature security infrastructure that large organizations use to defend against modern threats. According to one study, just 18% of SMBs with 250 or more employees have a dedicated security budget. This number drops to 8% for businesses with 50 or fewer employees. 
Despite their limited resources, small and medium-sized businesses often need to defend against the same adversaries as larger enterprises. This means every dollar an SMB invests in security has to count. They need to trust in the solution they implement to stop a breach from disrupting operations. Beyond breach prevention, they also need to think about the complexity a given solution brings into their environment. It needs to be easy to install and manage, and it can't get in the way of employees' productivity.  
CrowdStrike recently commissioned a TechValidate survey to identify the top threats SMB customers face and better understand the value the CrowdStrike Falcon® platform delivers to the IT and security teams protecting these organizations. The results are clear: CrowdStrike protects its customers by stopping breaches, provides greater support for small security teams, and helps SMBS build stronger and more efficient security postures.
CrowdStrike Solves Big Cybersecurity Challenges for Small Businesses
When asked what their biggest security challenges were prior to investing in CrowdStrike, respondents focused both on the sophistication of attacks and the impact of security technology on their operations: 
63% said facing increasingly advanced cyber threats (e.g., ransomware, identity-based attacks, etc.)

61% cited a lack of security professionals and staff

51% said existing security tools and products did not meet their needs or integrations

50% said increased complexity and risk due to remote and/or hybrid workforces  
Small and medium-sized organizations increasingly turn to CrowdStrike to solve their biggest challenges. When asked what benefits they gained following the deployment of CrowdStrike, respondents pointed to the following advantages. 
Improved efficiency of security operations (73%): "Because we are using a single, centralized platform, the amount of work required to monitor and remediate security events is significantly reduced as it can be done any time, from anywhere," said a manufacturing customer. 
Faster IT and security performance (70%): "We've been running CrowdStrike for over a year with less than 20 false positives. This is easily a 99% reduction in daily work for my team," said the network services manager at a law firm.
Improved data protection of critical information (45%): "The detections from this software are out of this world effective. Throwing this into my environment, we found things lurking we had no idea of, and seeing them get detected in real time and mitigated as well was fascinating. There is a lot of time saved by not having to worry about this piece in my security stack," said the IT coordinator for a manufacturer of fitness equipment. 
Why SMBs Choose CrowdStrike 
An SMB with limited resources should focus on maximizing the value of their security budget. These businesses need to ensure their investment both makes them more resilient to a breach and improves their overall operations. SMBs need security technology they can trust to protect them on what could be their worst day.
When asked why they selected CrowdStrike over competing solutions, 73% of customers highlighted CrowdStrike's proven security leadership. Our technology has been recognized by major industry analysts and proven as best-in-class protection by independent testing. 
Being the market leader is about more than being the biggest company or having the best technology. It's about setting the direction for the industry, and more importantly, delivering the best outcomes for our customers. CrowdStrike pushes every day to be a market leader so we can provide our customers with the platform, expertise and intelligence they need to keep their organizations moving forward. CrowdStrike's customers continually rank us as a leader in cybersecurity across the most reputable peer review websites.  
Below are a few other examples highlighting CrowdStrike's leadership and how it helps our customers be attack-ready and increase their business resilience. We are recognized as: 
Nearly 60% of our SMB customers chose CrowdStrike for our single-agent, unified security platform approach. This model eliminates deployment overhead and enables security teams to reduce the number of agents they need to manage, all while ensuring a rapid response to threats like ransomware and identity-based attacks.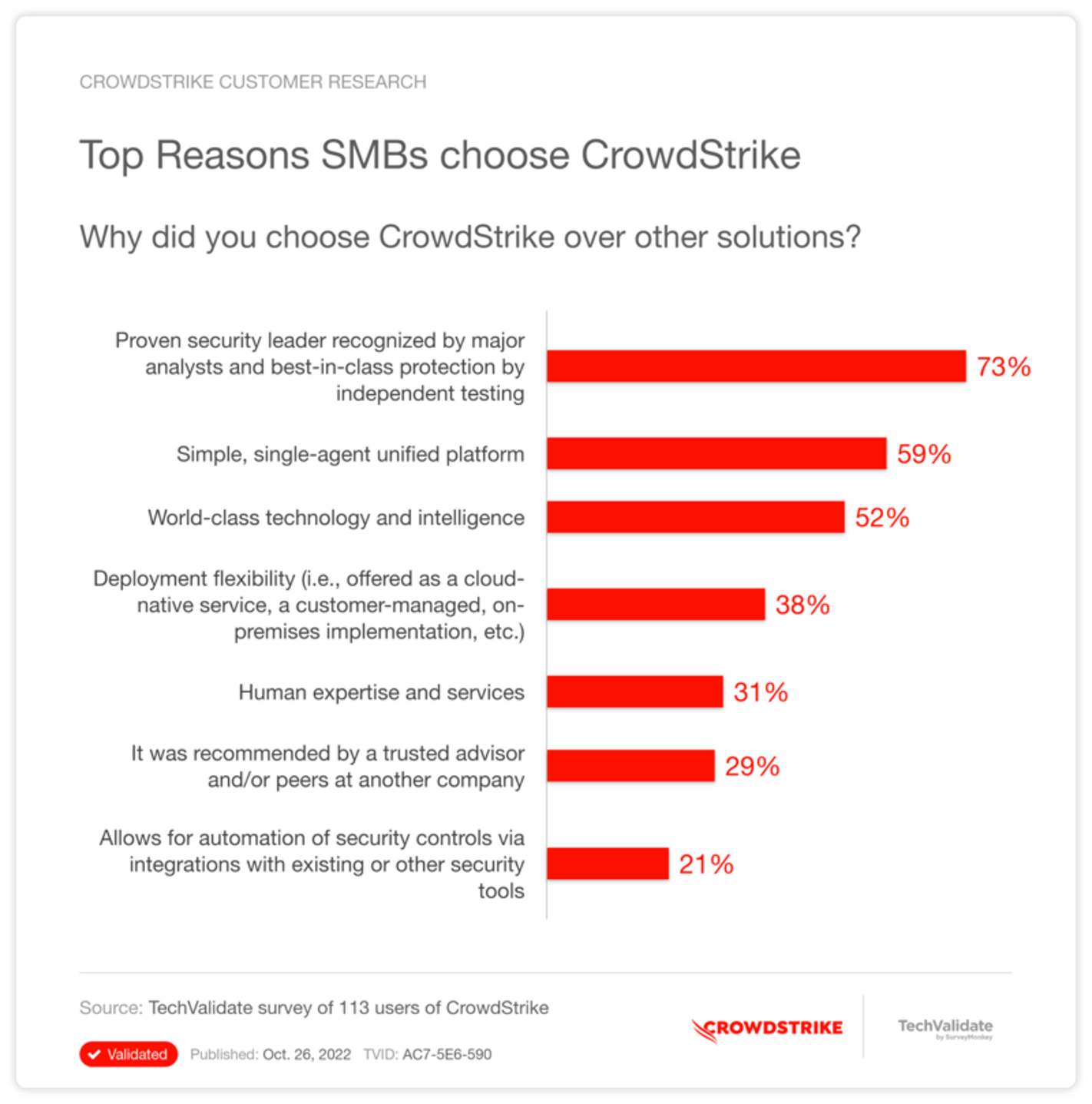 As cybercriminals seek new ways to target organizations large and small, SMBs that choose CrowdStrike can be confident in knowing they made the best choice to protect their business.
Our customers show it's possible for small businesses to strengthen their security posture without bringing in additional staff, at a budget that works for them. You can get started today with a free trial for SMBs and learn more about our ongoing promotion for small businesses.
*Special Offer Details: Get 50% off your first year subscription of Falcon Go for a limited time by entering code WINTER50 at checkout. Offer ends January 31, 2023. Only available for annual billing of Falcon Go with a minimum purchase of 5 endpoints up to a maximum of 100 endpoints. This offer is only open to new accounts. For renewal pricing after the first year, contact your CrowdStrike representative."
Survey Methodology: CrowdStrike commissioned TechValidate to conduct a survey of 96 IT and security practitioners from current SMB customers around the world in November 2022.
Additional SMB Resources

Related Content