Spectra Alliance: A Strategic Approach to Zero Trust Security
A comprehensive, integrated security solution from CrowdStrike, Netskope, Okta and Proofpoint to improve your organization's security posture as you advance your digital transformation journey.
The Challenge
Visibilty
Hybrid operating environments with increased cloud use and remote access create visibility challenges for IT and security teams, making threat and data protection, investigation and remediation difficult.
Access
In the work-from-anywhere model, modern workforce require different access to applications and sensitive data and require new data protection and management strategies, not offered by legacy and perimeter defenses.
Siloed Security Solutions
Organizations have siloed security solutions deployed in their IT and security stack which creates challenges when they lacking integrated cloud, endpoint, workload, data, and identity security
Threats
The threat landscape is more sophisticated with attacks on identity and data calling for advanced prevention and detection solutions to protect organizations from these advanced threats.
Spectra Alliance Quotes
"We are proud to partner with cloud leaders to assist IT teams in implementing a zero trust strategy that uses the endpoint posture as a critical piece in enabling conditional access and moves beyond the network perimeter to secure dynamic work environments."
Amol Kulkarni, Chief Product Officer, CrowdStrike.
"Organizations of any size can benefit from a complete understanding of how to implement a modern, identity-centric, zero trust security ecosystem to meet their immediate needs accelerated by the pandemic, and future-proof for what's ahead."
David Bradbury, Chief Security Officer, Okta
"We've extended our value to customers through integrations with best-of-breed partners to protect endpoint devices and intelligently extend identity-based governance and compliance."
Lamont Orange, Chief Information Security Officer, Netskope
"We mitigate the most critical security risks with deep visibility into highly targeted users, as well as provide vital awareness training to build user resilience."
Ryan Kalember, Executive Vice President of Cybersecurity Strategy, Proofpoint
The Solution
In partnership, CrowdStrike, Netskope, Okta, and Proofpoint created a first-of-its-kind integrated solution stack to help organizations accelerate their Zero Trust journey and manage their hybrid work environments. The COVID-19 pandemic has challenged IT and security teams to keep remote workforce productive, maintain business continuity and support uninterrupted compliance by protecting data no matter where it is or goes. Today, as organizations take steps to adopt a Zero Trust framework, they face many technical decisions. Spectra Alliance brings together a best-of-breed, integrated solution that minimizes complexity and risk exposure, providing a simplified, flexible interoperable architecture that decreases operational costs, and most importantly increases your Zero Trust security posture.
Download Infographic
Together, CrowdStrike, Netskope, Okta and Proofpoint enable you to:
Protect Users


Protect users, data, endpoints, and applications across the enterprise without disrupting enterprise workflows

Control Access


Establish Zero Trust security with strong visibility and control across on premise and multi-cloud environments

Harden Endpoints


Harden defenses against today's sophisticated attacks with interoperability and automation across platforms

Aggregate Data


Aggregate shared data across partners for instrumenting contextual adaptive policies and reducing risk of exposure to critical business assets
How It Works
The Spectra Alliance was created to help organizations accelerate their journeys to zero trust:
CrowdStrike provides endpoint and workload security, cloud security, security operations, threat intelligence, and identity threat detection.
Okta provides cloud workforce identity, cloud customer identity, access management, and adaptive multi-factor authentication (MFA).
Netskope provides web gateway, cloud access security broker, and zero-trust network access security as a service.
Proofpoint provides cloud security, information protection, and email security.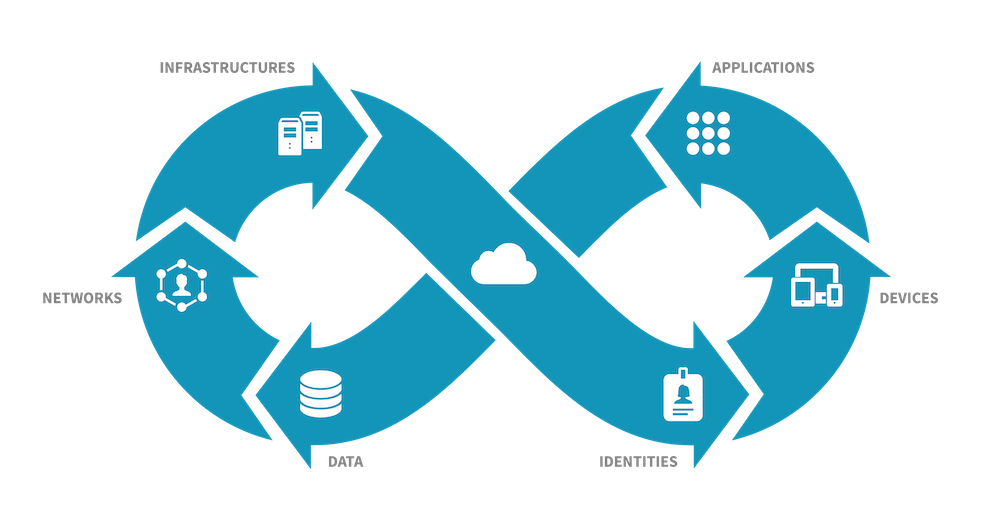 KEY SPECTRA BENEFITS
The alliances strives to help organizations with these benefits:
Customizability


Works for both distributed and office scenarios, with no rip-and-replace requirements regardless of which endpoints, workloads, users, networks or applications are used or where they are located

Reduced Complexity and Risk


Helps reduce complexity and risk exposure through pre-integrations and frictionless deployments

Comprehensive Protection


Achieve cost and operational efficiency to achieve Zero Trust security rather than struggling with unknown financial, staff resource requirements and longer-term operations and management decisions
KEY SPECTRA FEATURES
Scoping zero trust involves six elements: identities, devices, applications, data, networks, and infrastructure. Spectra features to achieve zero trust outcomes:
Interoperable Architecture


Simplified, highly interoperable architecture to help achieve a Zero Trust framework — plug-and-play integrations from best-of-breed cybersecurity vendors future-proof your investment

Operational Efficiency


Comprehensive protection against modern and evolving threats to multiple attack vectors by securing all hardware (laptops, mobiles, servers, IoT) and digital assets (users accounts, certificates, applications and data)

Layered Defense


Layered defense in depth that enable achieve security outcomes with change in processes and policies that span across the six elements: identities, devices, applications, data, networks and infrastructures