Remote-Friendly vs. Remote-First: Being Part of CrowdStrike's Distributed Workforce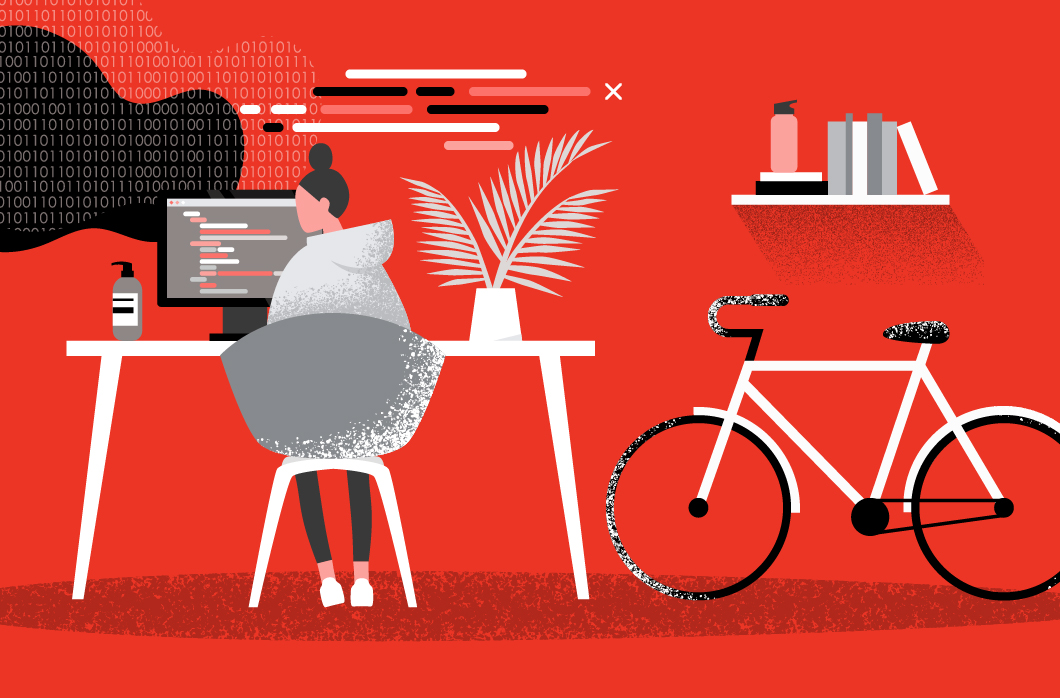 Over the past decade, remote work has been gradually shifting from a coveted perk to a popular arrangement, especially in the tech sector — and in recent months, COVID-19 has expedited that shift across many industries. For digital-native companies like CrowdStrike®, the ability to work remotely is a deliberate strategy that fuels rapid innovation and attracts the best and brightest around the world. Our culture is purpose-built around a remote-first way of working — creating a competitive advantage for both the company and its customers.
CrowdStrike has had a distributed workforce since its inception in 2011, and pre-COVID-19, 70% of our workforce — including nearly all of engineering and technology teams — worked on a remote basis. Now, it's 100%, with no immediate plans to rush back to physical offices. In this blog, as a CrowdStrike engineer, I discuss what it's been like joining our distributed team and the benefits of a remote-first culture.
How Our Distributed Team Functions 
We start with the assumption that people are not online 24/7 and the belief that one individual shouldn't be the only one with any particular piece of knowledge. For that reason, everything is written down — including examples — and documented in tickets. We use the Jira system, which allows team members to refer back to previous tickets and understand what was done and why. 
Then, we use a variety of collaboration tools: email — of course — along with Zoom for meetings and Slack for instant communication. All company-wide meetings are recorded and made available through CrowdStrike channels, since there's never a time that accommodates every employee around the world. Those recordings are also very helpful during the onboarding process — new hires can listen to recent meetings to learn what's being discussed and the issues we're facing as a team. New hires gain a level of historical context they would never get in a typical office environment.
And because everything is written down or recorded, people seem to be especially mindful about how they work. No one "throws things over the wall." Engineers know that most of the tasks we work on will be handed off, so we try to make it as easy and as clear as possible for the next person to pick up through documentation.
Some Still Hesitate to Embrace Remote Work
Not every company is sold on remote work. Some think that remote employees are hard to reach or undependable or that the work might suffer. But those who don't support remote culture perhaps don't fully understand it or are in organizations that weren't designed to function remotely. Part of being remote-first, in contrast to remote-friendly, is that reachability is addressed through design. If only one person can answer the question, that's a problem — not because they're offline but because one person should never be the sole owner of the information.
The documentation system we have in place at CrowdStrike really helps enable a remote-first culture. We have a wide range of tools that we use to communicate and disseminate information so that that knowledge is spread throughout the entire team instead of sitting with one or two people.
When you're rarely face-to-face and mostly connecting virtually, communication is key — it's one of the most important aspects of working on a distributed team. Weekly one-on-one meetings with direct managers are the norm, along with other regularly scheduled meetings with team leads. 
At CrowdStrike, we function as a team and have a responsive culture. If you need a question answered, someone is right there to help — whether that means jumping on a Zoom call or communicating via Slack. If you're stuck, there's always somebody on the engineering Slack channel, and you'll often get five responses immediately from five different time zones. 
The Benefits of CrowdStrike's Distributed Team 
In a remote-first culture, nobody is expected to be at their computer all the time or have their phone on 24/7. If there's an emergency, somebody else is there to cover it. That's a key benefit of a distributed team.
And, for any engineering or technology organization, it's a huge advantage to have the team distributed across many time zones. Work can be handed off to colleagues around the world, with very little downtime. Then, when something happens, you always have at least one group ready to respond.
Part of CrowdStrike's remote-first culture is putting the company's employees and their families and communities first, actively encouraging personal well-being through initiatives, including the FalconFit Wellness Program, community outreach activities, recognition programs and groups to connect people with similar interests, life circumstances or backgrounds. It also fully supports professional growth, offering all employees the opportunity to take courses through CrowdStrike University. 
Another advantage of a remote workforce is the diversity of thinking we gain from connecting a wide cross-section of people. The way to get people to think outside the box is to put people whose specialties are in different boxes, so to speak, together on the same team. You'll get wildly different — and often better — solutions to problems when different perspectives come together.
At CrowdStrike, this is especially important because the scale of our data is massive, and the problem of stopping breaches is urgent. We're processing more than three trillion events per week,  and part of our job is to make that information meaningful and digestible to our customers. The only way to do that is by bringing together people from different disciplines, locations, cultures and backgrounds. That's the only way you're going to get the kind of innovation you need to stay ahead of adversaries and solve problems in creative and effective ways.
We're all getting the job done regardless of where we're based, because as soon as you join CrowdStrike, you feel the passion — and it's just as strong remotely as it is face to face. 
Does working for CrowdStrike sound interesting to you? Visit the CrowdStrike career page to learn more about our teams, our culture and current open positions.  
Additional Resources