CTOS Data Systems Case Study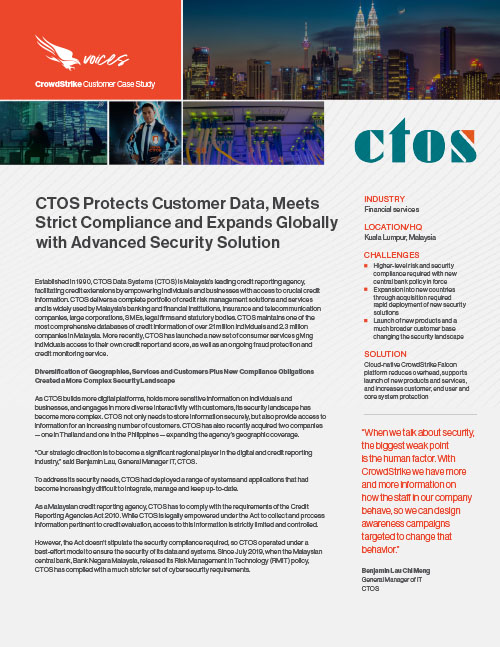 Established in 1990, CTOS Data Systems (CTOS) is Malaysia's leading credit reporting agency, facilitating credit extensions by empowering individuals and businesses with access to crucial credit information. CTOS delivers a complete portfolio of credit risk management solutions and services and is widely used by Malaysia's banking and financial institutions, insurance and telecommunication companies, large corporations, SMEs, legal firms and statutory bodies. CTOS maintains one of the most comprehensive databases of credit information of over 10 million individuals and 2 million companies in Malaysia. More recently, CTOS has launched a new set of consumer services giving individuals access to their own credit report and score, as well as an ongoing fraud protection and credit monitoring service.
As CTOS builds more digital platforms, holds more sensitive information on individuals and businesses, and engages in more diverse interactivity with customers, its security landscape has become more complex. CTOS not only needs to store information securely, but also provide access to information for an increasing number of customers. CTOS has also recently acquired two companies — one in Thailand and one in the Philippines — expanding the agency's geographic coverage.
"When we talk about security, the biggest weak point is the human factor. With CrowdStrike we have more and more information on how the staff in our company behave, so we can design awareness campaigns targeted to change that behavior." Benjamin Lau Chi Meng, General Manager of IT CTOS
Discover More at our

Resource Center
For technical information on installation, policy configuration and more, please visit the CrowdStrike Tech Center.
Visit the Tech Center