TDK Electronics Case Study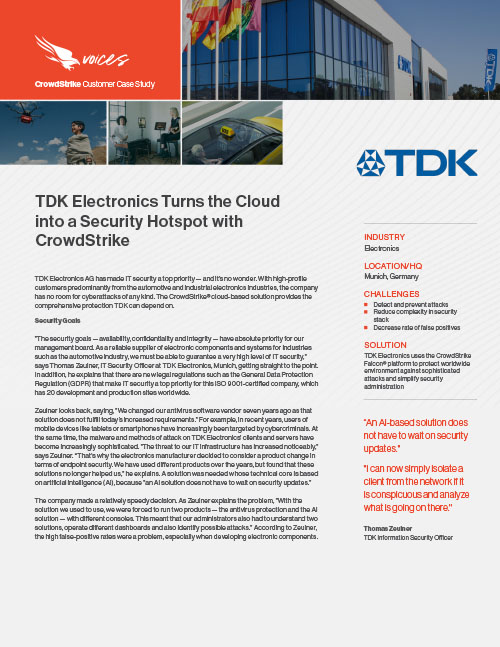 Why TDK Electronics Chose CrowdStrike
TDK Electronics AG has made IT security a top priority — and it's no wonder. With high profile customers predominantly from the automotive and industrial electronics industries, the company has no room for cyberattacks of any kind. The CrowdStrike® cloud-based solution provides the comprehensive protection TDK can depend on.
"The security goals — availability, confidentiality and integrity — have absolute priority for our management board. As a reliable supplier of electronic components and systems for industries such as the automotive industry, we must be able to guarantee a very high level of IT security," says Thomas Zeulner, IT Security Officer at TDK Electronics, Munich, getting straight to the point. In addition, he explains that there are new legal regulations such as the General Data Protection Regulation (GDPR) that make IT security a top priority for this ISO 9001-certified company, which has 20 development and production sites worldwide.
Discover More at our

Resource Center
For technical information on installation, policy configuration and more, please visit the CrowdStrike Tech Center.
Visit the Tech Center