TDK Electronics Case Study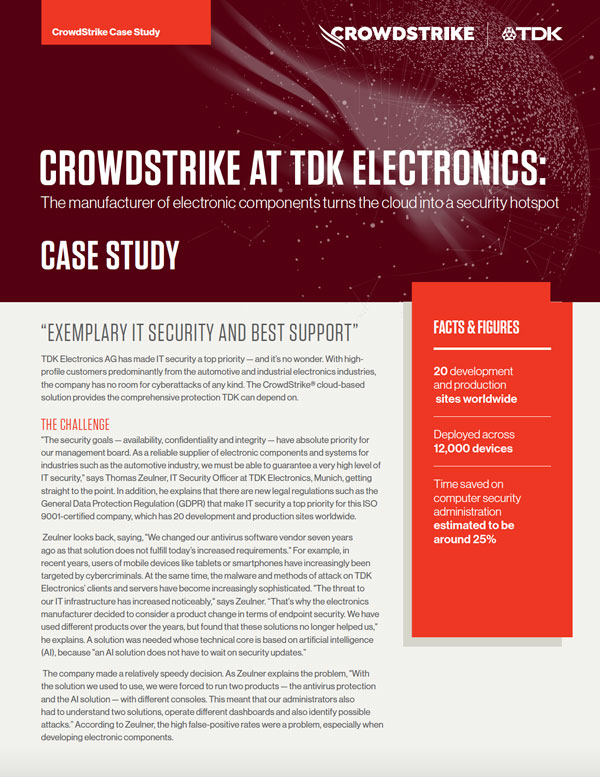 Why TDK Electronics Chose CrowdStrike
The Challenge
"The security goals — availability, confidentiality and integrity — have absolute priority for our management board. As a reliable supplier of electronic components and systems for industries such as the automotive industry, we must be able to guarantee a very high level of IT security," says Thomas Zeulner, IT Security Officer at TDK Electronics, Munich, getting straight to the point. In addition, he explains that there are new legal regulations such as the General Data Protection Regulation (GDPR) that make IT security a top priority for this ISO 9001-certified company, which has 20 development and production sites worldwide.
Zeulner looks back, saying, "We changed our antivirus software vendor seven years ago as that solution does not fulfill today's increased requirements." For example, in recent years, users of mobile devices like tablets or smartphones have increasingly been targeted by cybercriminals. At the same time, the malware and methods of attack on TDK Electronics' clients and servers have become increasingly sophisticated. "The threat to our IT infrastructure has increased noticeably," says Zeulner. "That's why the electronics manufacturer decided to consider a product change in terms of endpoint security. We have used different products over the years, but found that these solutions no longer helped us," he explains. A solution was needed whose technical core is based on artificial intelligence (AI), because "an AI solution does not have to wait on security updates."
Interested in how CrowdStrike solved TDK Electronic's problem? Click the button below to download the full case study: 
Discover More at our

Resource Center
For technical information on installation, policy configuration and more, please visit the CrowdStrike Tech Center.
Visit the Tech Center