Container Security Data Sheet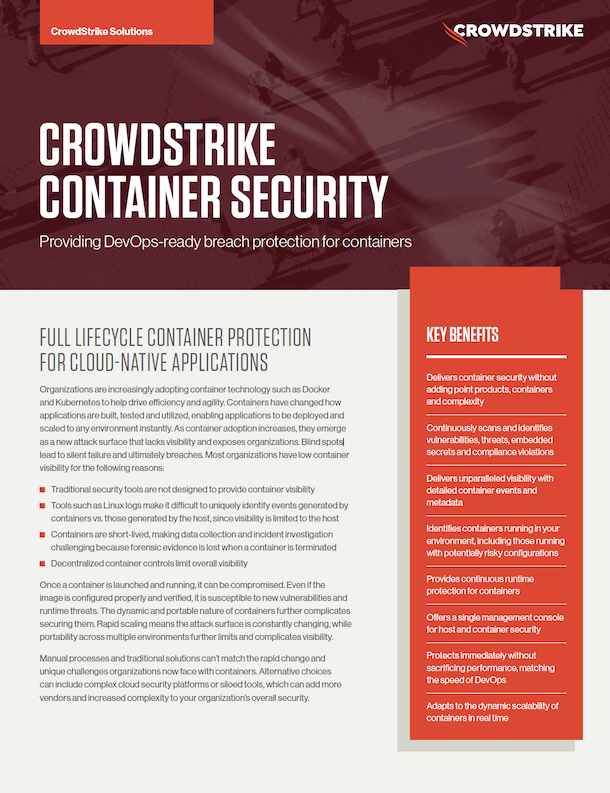 CrowdStrike Container Security
Providing DevOps-ready breach protection for containers
Full Lifecycle Container Protection For Cloud-Native Applications
Organizations are increasingly adopting container technology such as Docker and Kubernetes to help drive efficiency and agility. Containers have changed how applications are built, tested and utilized, enabling applications to be deployed and scaled to any environment instantly. As container adoption increases, they emerge as a new attack surface that lacks visibility and exposes organizations. Blind spots lead to silent failure and ultimately breaches. Most organizations have low container visibility for the following reasons:
Traditional security tools are not designed to provide container visibility
Tools such as Linux logs make it difficult to uniquely identify events generated by containers vs. those generated by the host, since visibility is limited to the host
Containers are short-lived, making data collection and incident investigation challenging because forensic evidence is lost when a container is terminated
Decentralized container controls limit overall visibility
Discover More at our

Resource Center
For technical information on installation, policy configuration and more, please visit the CrowdStrike Tech Center.
Visit the Tech Center