CrowdStrike Falcon® and PCI DSS Compliance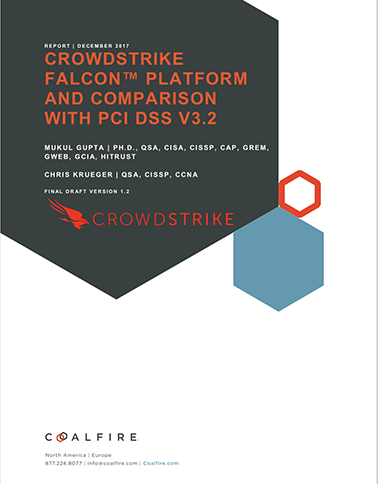 CrowdStrike Falcon®™ platform's advanced prevention, detection and mitigation capabilities are ideal for organizations that need to protect endpoints and critical data from the latest threats. This is especially important to organizations that store, process, or transmit payment card data during day-to-day operations.
Merchants, payment processors, issuers, and service providers are required by the payment-acquiring banks to comply with the Payment Card Industry Data Security Standard (PCI DSS) on an ongoing basis.
CrowdStrike engaged Coalfire, a leading independent security and risk management consulting firm, to assess CrowdStrike Falcon®'s functionality with respect to the PCI DSS v3.2 requirements and document how Falcon endpoint protection meets all elements of requirement No. 5: "Protect all systems against malware and regularly update anti-virus software or programs." In addition, CrowdStrike Falcon® provides assistance with meeting four additional PCI requirements.
Download the report* to learn:
The features of CrowdStrike Falcon® platform that can be leveraged for PCI DSS compliance
The requirements of the PCI DSS framework
How CrowdStrike Falcon® features map to specific requirements in the PCI DSS framework
*This report was produced by Coalfire, a PCI Qualified Security Assessor (QSA).
Discover More at our

Resource Center
For technical information on installation, policy configuration and more, please visit the CrowdStrike Tech Center.
Visit the Tech Center