Protecting HIPAA PHI in the Age of Advanced Targeted Cyber Threats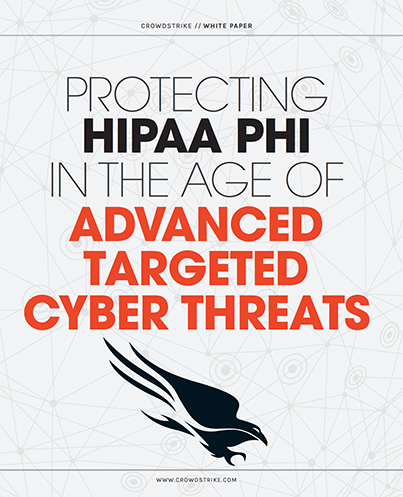 How the CrowdStrike Falcon® platform protects across eight key HIPAA requirements
Today's healthcare industry has continued to improve services by ensuring that patient health records are digitized and easily transmittable and accessible by a variety of providers. However this has also given rise to a dramatic increase in eCrime attacks by adversaries targeting the lucrative potential healthcare records hold. The Health Insurance Portability and Accountability Act (HIPAA) is federal legislation that sets privacy standards to safeguard and protect PHI — organizations that fail to comply are subject to large fines and headline-grabbing breaches.
This white paper explains some of the HIPAA requirements governing PHI security and outlines how the CrowdStrike Falcon next-generation endpoint protection can assist organizations with HIPAA compliance by satisfying eight key requirements.
Read this white paper to:
Gain insight into the threat landscape and the importance of HIPAA compliance to all organizations that retain PHI, not just hospitals and clinics
Understand why eCrime actors are increasingly targeting healthcare organizations
Learn how the CrowdStrike Falcon platform is validated to protect PHI and satisfy HIPAA compliance
Discover More at our

Resource Center
For technical information on installation, policy configuration and more, please visit the CrowdStrike Tech Center.
Visit the Tech Center