CrowdStrike-Hunters Joint Solution Brief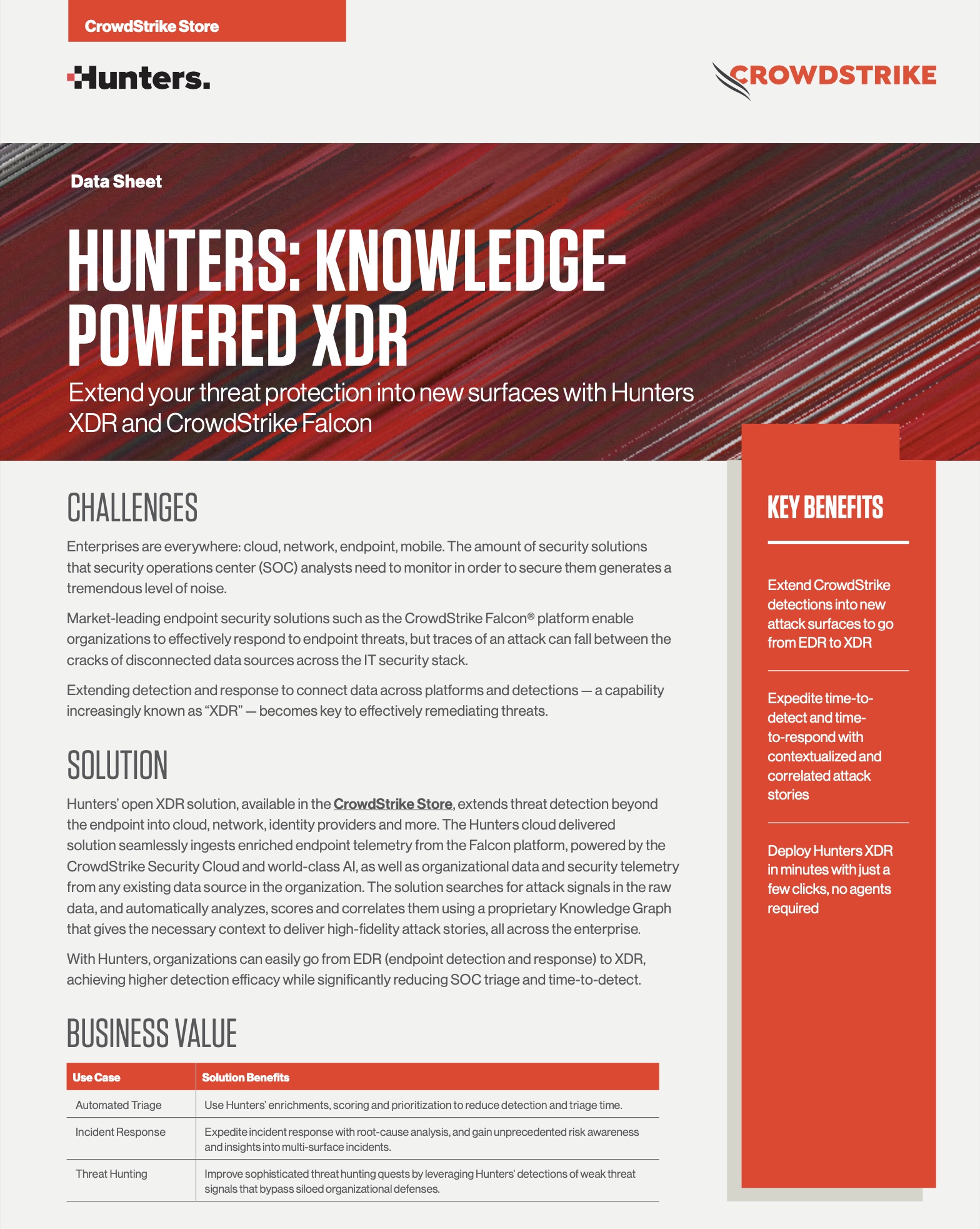 Extend Your Threat Detection Into New Surfaces with Hunters XDR and CrowdStrike Falcon®
Enterprises are everywhere: cloud, network, endpoint, mobile. The amount of security solutions that security operations center (SOC) analysts need to monitor in order to secure them generates a tremendous level of noise.
Market-leading endpoint security solutions such as the CrowdStrike Falcon® platform enable organizations to effectively respond to endpoint threats, but traces of an attack can fall between the cracks of disconnected data sources across the IT security stack.
Extending detection and response to connect data across platforms and detections — a capability increasingly known as "XDR" — becomes key to effectively remediating threats.
Hunters' open XDR solution, available in the CrowdStrike Store, extends threat detection beyond the endpoint into cloud, network, identity providers and more. The Hunters cloud-delivered solution seamlessly ingests rich endpoint telemetry from the Falcon platform as well as organizational data and security telemetry from any existing data source in the organization. The solution searches for attack signals in the raw data, and automatically analyzes, scores and correlates them using a proprietary Knowledge Graph that gives the necessary context to deliver high-fidelity attack stories, all across the enterprise.
With Hunters, organizations can easily go from EDR (endpoint detection and response) to XDR, achieving higher detection efficacy while significantly reducing SOC triage and time-to-detect.
Discover More at our

Resource Center
For technical information on installation, policy configuration and more, please visit the CrowdStrike Tech Center.
Visit the Tech Center