NopSec Store Partner Solution Brief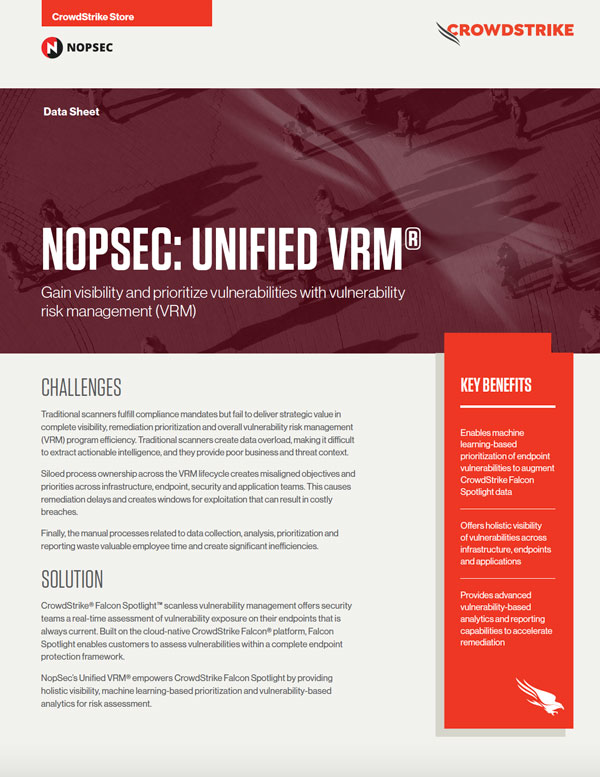 Gain visibility and prioritize vulnerabilities with vulnerability risk management (VRM)
CHALLENGES
Traditional scanners fulfill compliance mandates but fail to deliver strategic value in complete visibility, remediation prioritization and overall vulnerability risk management (VRM) program efficiency. Traditional scanners create data overload, making it difficult to extract actionable intelligence, and they provide poor business and threat context. Siloed process ownership across the VRM lifecycle creates misaligned objectives and priorities across infrastructure, endpoint, security and application teams. This causes remediation delays and creates windows for exploitation that can result in costly breaches. Finally, the manual processes related to data collection, analysis, prioritization and reporting waste valuable employee time and create significant inefficiencies.
SOLUTION
CrowdStrike® Falcon Spotlight™ scanless vulnerability management offers security teams a real-time assessment of vulnerability exposure on their endpoints that is always current. Built on the cloud-native CrowdStrike Falcon® platform, Falcon Spotlight enables customers to assess vulnerabilities within a complete endpoint protection framework. NopSec's Unified VRM® empowers CrowdStrike Falcon Spotlight by providing holistic visibility, machine learning-based prioritization and vulnerability-based analytics for risk assessment.
Discover More at our

Resource Center
For technical information on installation, policy configuration and more, please visit the CrowdStrike Tech Center.
Visit the Tech Center