Swimlane Partner Solution Brief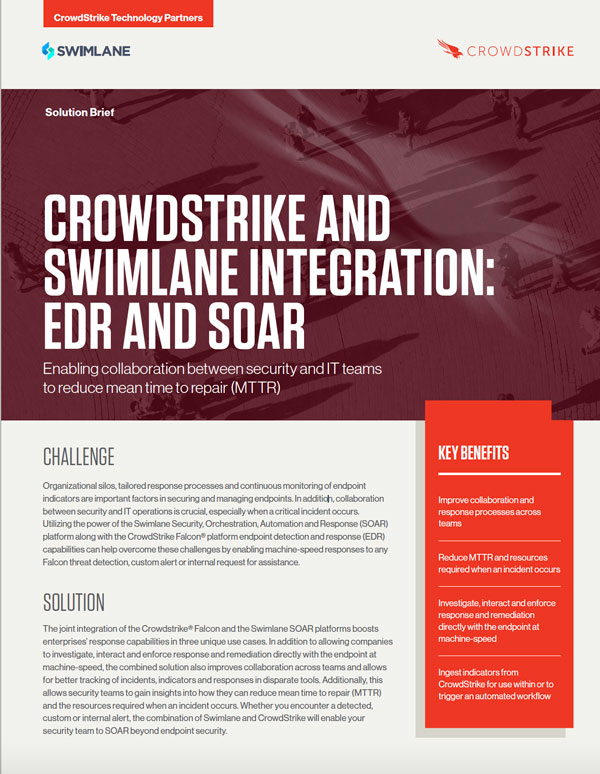 Enabling collaboration between security and IT teams to reduce mean time to repair (MTTR)
CHALLENGE
Organizational silos, tailored response processes and continuous monitoring of endpoint indicators are important factors in securing and managing endpoints. In addition, collaboration between security and IT operations is crucial, especially when a critical incident occurs. Utilizing the power of the Swimlane Security, Orchestration, Automation and Response (SOAR) platform along with the CrowdStrike Falcon® platform endpoint detection and response (EDR) capabilities can help overcome these challenges by enabling machine-speed responses to any Falcon threat detection, custom alert or internal request for assistance.
SOLUTION
The joint integration of the Crowdstrike® Falcon and the Swimlane SOAR platforms boosts enterprises' response capabilities in three unique use cases. In addition to allowing companies to investigate, interact and enforce response and remediation directly with the endpoint at machine-speed, the combined solution also improves collaboration across teams and allows for better tracking of incidents, indicators and responses in disparate tools. Additionally, this allows security teams to gain insights into how they can reduce mean time to repair (MTTR) and the resources required when an incident occurs. Whether you encounter a detected, custom or internal alert, the combination of Swimlane and CrowdStrike will enable your security team to SOAR beyond endpoint security.
Discover More at our

Resource Center
For technical information on installation, policy configuration and more, please visit the CrowdStrike Tech Center.
Visit the Tech Center