ESG Research Report: Leveraging DevSecOps to Secure Cloud-native Applications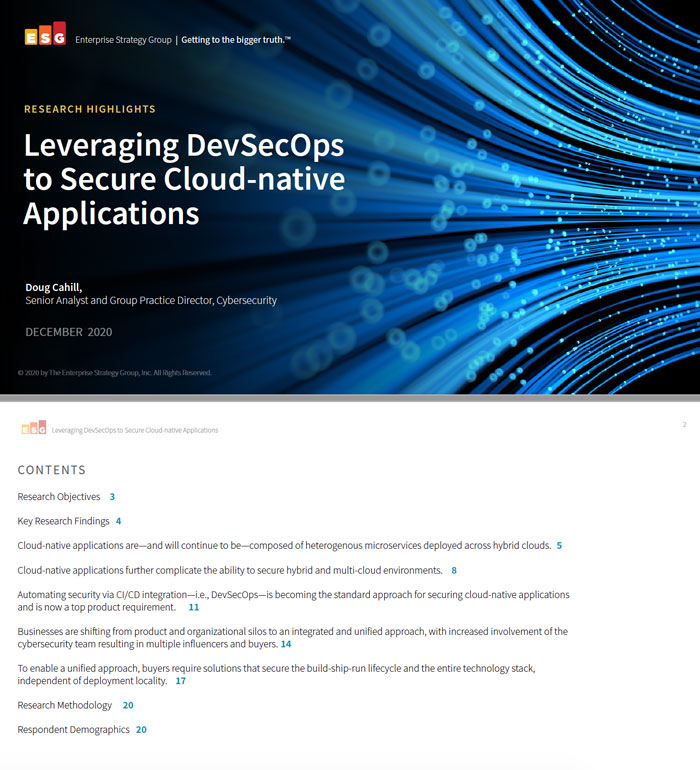 Fundamental changes to application architectures and the infrastructure platforms that host them are antiquating existing cybersecurity technologies and challenging traditional approaches to protecting business-critical workloads.
Additionally, the continuous integration and continuous delivery (CI/CD) process of DevOps is as impactful a change to cybersecurity programs as the changes to the applications and infrastructure that these methodologies manage.
In order to get more insight into these trends, ESG conducted a research survey to help businesses like yours meet these emerging challenges head-on.
In this report, you'll:
Gain insights into the trends shaping how businesses secure cloud-native applications and the challenges they face
Learn how cloud-native technologies are driving businesses to rethink cloud security as they drive toward a DevSecOps model
Discover the tools of choice, and how to view automating security via the CI/CD pipeline now and into the future
Discover More at our

Resource Center
For technical information on installation, policy configuration and more, please visit the CrowdStrike Tech Center.
Visit the Tech Center