Mercedes-AMG Petronas Formula One Team Case Study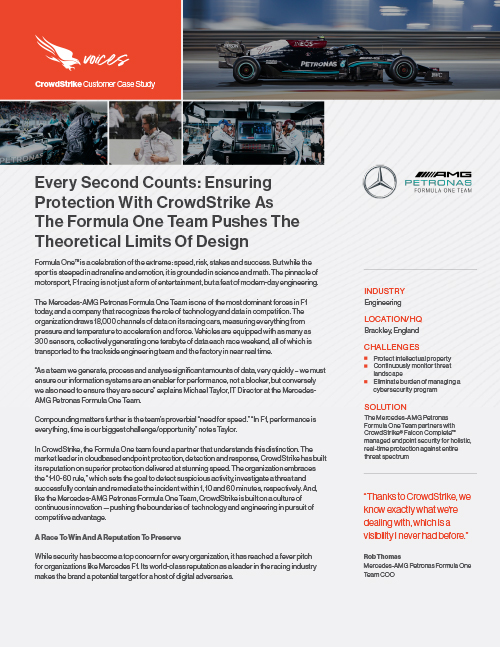 The Mercedes-AMG Petronas Formula One Team is one of the most dominant forces in F1 today, and a company that recognizes the role of technology and data in competition. The organization draws 18,000 channels of data on its racing cars, measuring everything from pressure and temperature to acceleration and force. Vehicles are equipped with as many as 300 sensors, collectively generating one terabyte of data each race weekend, all of which is transported to the trackside engineering team and the factory in near real time.
"As a team we generate, process and analyse significant amounts of data, very quickly – we must ensure our information systems are an enabler for performance, not a blocker, but conversely we also need to ensure they are secure" explains Michael Taylor, IT Director at the Mercedes- AMG Petronas Formula One Team.
Discover More at our

Resource Center
For technical information on installation, policy configuration and more, please visit the CrowdStrike Tech Center.
Visit the Tech Center