AttackIQ Partner Solution Brief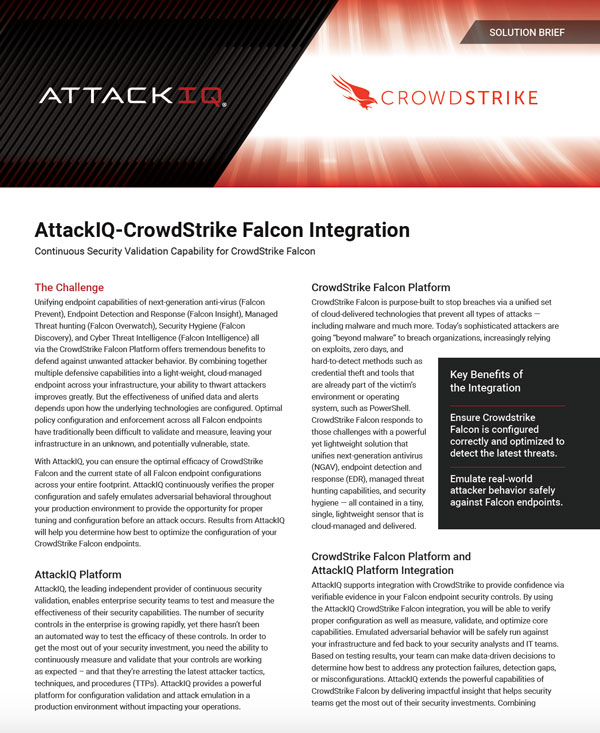 Continuous Security Validation Capability for CrowdStrike Falcon
The Challenge
Unifying endpoint capabilities of next-generation anti-virus (Falcon Prevent), Endpoint Detection and Response (Falcon Insight), Managed Threat hunting (Falcon Overwatch), Security Hygiene (Falcon Discovery), and Cyber Threat Intelligence (Falcon Intelligence) all via the CrowdStrike Falcon Platform offers tremendous benefits to defend against unwanted attacker behavior. By combining together multiple defensive capabilities into a light-weight, cloud-managed endpoint across your infrastructure, your ability to thwart attackers improves greatly. But the effectiveness of unified data and alerts depends upon how the underlying technologies are configured. Optimal policy configuration and enforcement across all Falcon endpoints have traditionally been difficult to validate and measure, leaving your infrastructure in an unknown, and potentially vulnerable, state.
With AttackIQ, you can ensure the optimal efficacy of CrowdStrike Falcon and the current state of all Falcon endpoint configurations across your entire footprint. AttackIQ continuously verifies the proper configuration and safely emulates adversarial behavioral throughout your production environment to provide the opportunity for proper tuning and configuration before an attack occurs. Results from AttackIQ will help you determine how best to optimize the configuration of your CrowdStrike Falcon endpoints.
Discover More at our

Resource Center
For technical information on installation, policy configuration and more, please visit the CrowdStrike Tech Center.
Visit the Tech Center