OPSWAT Partner Solution Brief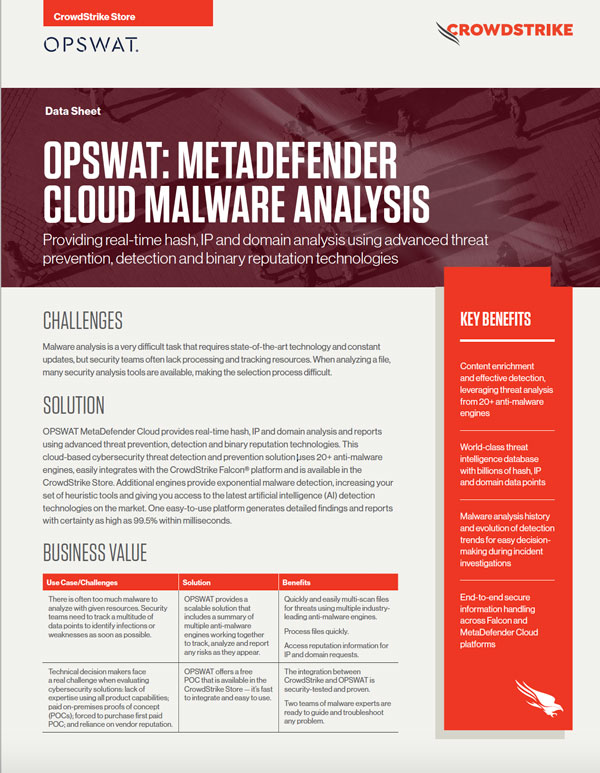 Providing real-time hash, IP and domain analysis using advanced threat prevention, detection and binary reputation technologies
CHALLENGES
Malware analysis is a very difficult task that requires state-of-the-art technology and constant updates, but security teams often lack processing and tracking resources. When analyzing a file many security analysis tools are available, making the selection process difficult.
SOLUTION
OPSWAT MetaDefender Cloud provides real-time hash, IP and domain analysis and reports using advanced threat prevention, detection and binary reputation technologies. This cloud-based cybersecurity threat detection and prevention solution uses 20+ anti-malware engines, easily integrates with the CrowdStrike Falcon® platform and is available in the CrowdStrike Store. Additional engines provide exponential malware detection, increasing your set of heuristic tools and giving you access to the latest artificial intelligence (AI) detection technologies on the market. One easy-to-use platform generates detailed findings and reports
with certainty as high as 99.5% within milliseconds.
Discover More at our

Resource Center
For technical information on installation, policy configuration and more, please visit the CrowdStrike Tech Center.
Visit the Tech Center