Cyber Attack Survival Checklist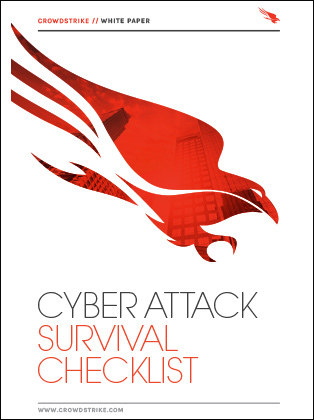 This proactive cyber defense checklist provides a hands-on guide to optimizing your security team's ability to defend against today's increasingly sophisticated targeted attacks. For this report, CrowdStrike's in-house adversary hunters, threat analysts, incident response and remediation experts pooled their knowledge, drawing upon decades of experience in combatting real-life attacks targeting some of the world's largest enterprise organizations.
In this checklist, you will find:
Proactive Defense Checklist
Common Mistakes with Existing security Measures
Steps for Enhancing Your Security Team
Best Practices for Responding to a Targeted Attack
Top Five Reasons for Reporting to Law Enforcement
Download this CYBER ATTACK SURVIVAL CHECKLIST and learn how to avoid common mistakes and eliminate deficiencies within your existing security measures, providing practical steps for enhancing your effectiveness against the stealthiest adversaries and attacks.
Discover More at our

Resource Center
For technical information on installation, policy configuration and more, please visit the CrowdStrike Tech Center.
Visit the Tech Center