Getting On Board with Cybersecurity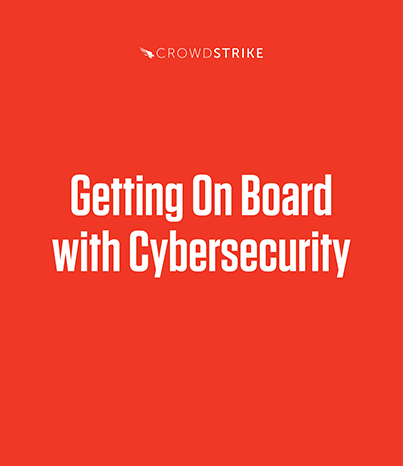 Practical guidance for board members and C-level executives
Boards of directors are routinely expected to provide guidance to their respective organizations – often in times of crisis. Now, as more destructive cybersecurity threats emerge, impacting every industry sector, a new level of discussion has made its way to the boardroom.
To help board members navigate what for many are uncharted waters, CrowdStrike has developed a guide, "Getting On Board With Cybersecurity." It offers insights and practical advice, including what you need to know about cybersecurity and how it impacts your organization, and provides guidance on how you can better assess your organization's cybersecurity preparedness and maturity.
Read this white paper to learn:
How you can add value and provide effective supervision over your organizations cybersecurity strategy and operations
The risks your organization faces given the current threat landscape and how to think about and prioritize assets for additional protection
A high-level overview of technical concepts and processes that can equip board members to engage more deeply with the practitioners and subject matter experts they rely on for guidance
Three cheat sheets you will find invaluable: one for addressing cybersecurity proactively, one for responding to a security breach, and one for personal security measures that high-value individuals should take
Discover More at our

Resource Center
For technical information on installation, policy configuration and more, please visit the CrowdStrike Tech Center.
Visit the Tech Center